SICAMOUS, B.C. - Life is anything but normal for residents in B.C.'s Shuswap region following recent flash flooding, but evacuation orders are being lifted for two affected neighbourhoods and people are beginning to trickle back.
Homes in two neighbourhoods on Mara Lake, south of Sicamous, were evacuated Saturday when Two Mile Creek became a raging torrent, tearing up roads, sweeping away vehicles and ripping at least one cottage off its foundation.
Now, all but a handful of property owners living nearest to the creek in the Two Mile neighbourhood have been allowed to return.
An evacuation order covering more than half of Two Mile was lifted last night, several hours after about 250 people were given the all-clear to return to their Swansea Point homes, about 10 kilometres south of Sicamous.
However, a 'do not consume' order is in effect for tap water from the Mara Lake system and residents are being warned not to use it for drinking, cooking or washing dishes because even boiling will not remove possible contaminants.
Crews are also uncertain about a reopening date for Highway 97A, connecting Sicamous to Vernon, after last Saturday's flash floods washed out the Two Mile bridge, just south of Sicamous.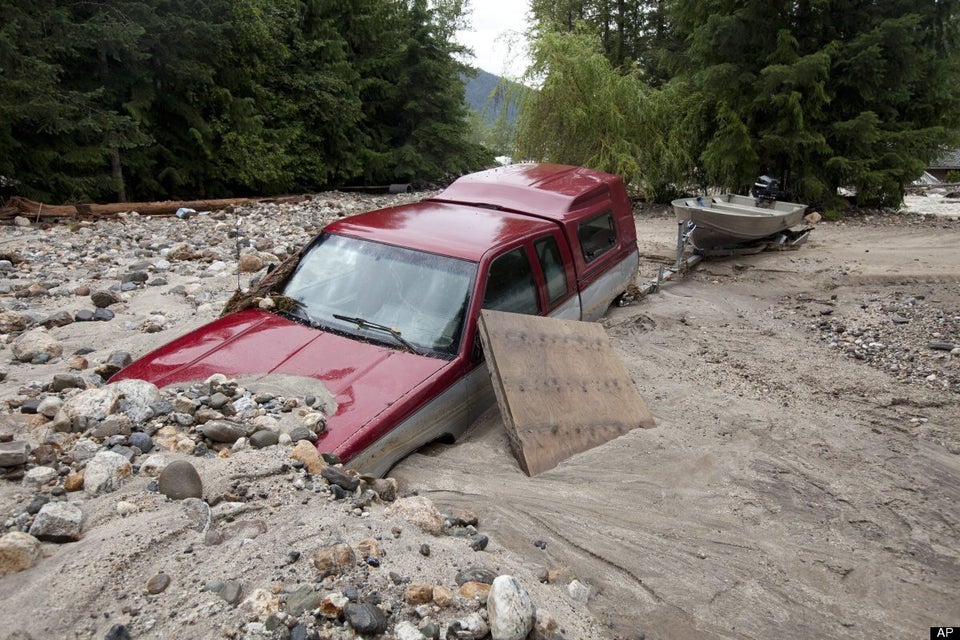 B.C. Flooding In Sicamous 2012