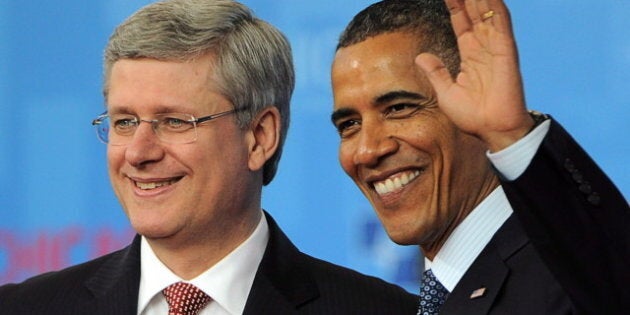 Foreign Affairs Minister John Baird is unsure whether Republican presidential candidate Mitt Romney would be a better partner for Canada than U.S. President Barack Obama.
Speaking to The Huffington Post during a visit to New York City, Baird repeatedly said that his government's relationship with the Obama Administration has been less than perfect.
"I think we've had our challenges with the relationship," Baird said. "I think most best friends, um close friends, have big challenges in their relationship especially because of the size of the trade relationship."
So would Romney be a better fit for Canada?
"It's hard to say, I don't know Governor Romney. I've never met him," Baird responded.
The minister quickly added that it wasn't up to him to get involved in American political decisions. "I think my, you know a Canadian Conservative's intervention in an American election would be as welcome as a Democratic or Republican intervention into a Canadian one."
The authors argue that Obama's move to postpone a decision on TransCanada's Keystone XL pipeline had pushed Canada-U.S. relations to their lowest point in decades and it was among many moves by the Obama Administration that had "jilted" its northern neighbour.
Baird said he disagreed with the authors, pointing out that Canada had successfully worked with the Obama Administration to enter the Trans-Pacific Partnership trade talks and sign a border security perimeter deal that had been years in the making.
Prime Minister Stephen Harper and Obama have an "excellent relationship," Baird said, and he has a "great relationship with Hillary" (Clinton, U.S. Secretary of State).
On the security and trade fronts "by and large, that's going well," he said. On international issues, Canada and the United States have similar values and have worked productively and constructively together on files such as Syria, Libya, the famine in Ethiopia and Somalia.
"I think by and large (the relationship) is pretty good. Is it perfect? Absolutely not. I don't think any relationship is ever perfect but I think that by and large it is pretty good."
So what could be done to make it better? Baird said both parties could make greater strides but he suggested one easy fix.
"I think a positive decision on Keystone early in 2013 would make it better," he said smiling.