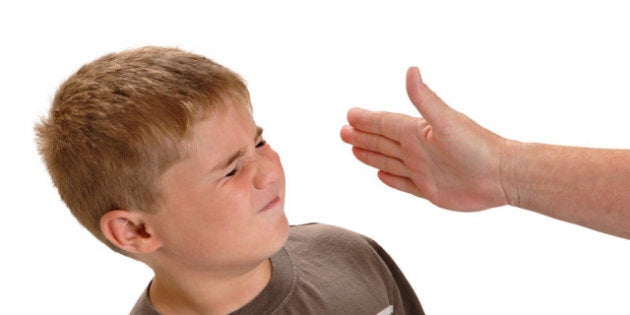 Adults who were subjected to physical punishment such as spanking as children are more likely to experience mental disorders, say Canadian researchers who encourage other forms of discipline.
Monday's issue of the journal Pediatrics includes a study on the proportion of illnesses such as depression, anxiety, alcohol and drug abuse as well as personality disorders that may be attributable to physical punishment.
Physical punishment was defined as pushing, grabbing, shoving, slapping and hitting in the absence of more severe maltreatment of a child through physical abuse, sexual abuse, emotional abuse, physical neglect, emotional neglect or exposure to intimate partner violence.
"It definitely points to the direction that physical punishment should not be used on children of any age and we need to be considering that when we're thinking about policy and programs so we can protect children from potentially harmful outcomes," said study author Tracie Afifi, who is in the department of community health sciences at the University of Manitoba.
Afifi hopes the findings from the study that involved more than 34,000 U.S. adults will make parents think twice about spanking.
Afifi acknowledged it's not a causal effect and the study design can't prove the link, but she said the statistical association is clear.
"Parents need to be aware of this relationship," Afifi said.
A surprising finding was that increases in education and income were associated with higher odds of harsh physical punishment, the researchers said.
Physical punishment opposed by pediatricians
"It is important for pediatricians and other health-care providers who work with children and parents to be aware of the link between physical punishment and mental disorders based on the study," Afifi's team concluded.
The American Academy of Pediatrics strongly opposes striking a child for any reason and the Canadian Pediatric Society recommends that physicians strongly discourage the use of physical punishment.
The authors suggested a more explicit position that spanking, smacking and slapping should not be used with children of any age.
Spanking is outlawed in 33 countries. It is legal for parents to use physical punishment on their children in Canada and the U.S.
"Everybody's tempted when kids are bad, but there are other ways of teaching your kids the right behaviour," said mother Nikki Quinn of Halifax.
Afifi recommends children be disciplined with positive reinforcement techniques, which have been reviewed and supported in medical literature.