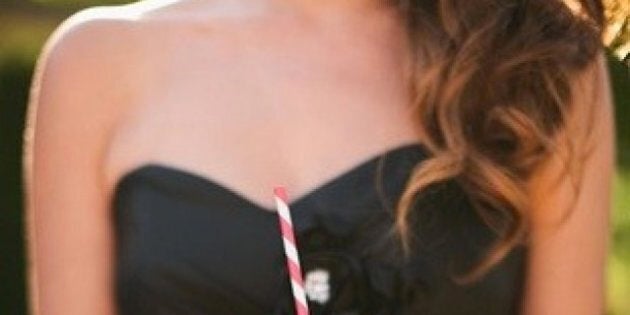 Opulent weddings and over-the-top decor are a thing of the past, as more couples opt for intimate, elegant celebrations.
Tara O'Grady, one of Toronto's top wedding planners and founder of Bliss Events, explains that the same principle applies to pre-wedding festivities, as well.
"Couples want to celebrate with their friends, but they want to do so in a way that they can enjoy themselves without being overwhelmed with expenses or complications," says O'Grady.
We love her idea of hosting a casual backyard barbecue for your engagement party. Guests can enjoy slider burgers, black bean salsa and tortilla chips and soft pretzels dipped in Dijon mustard as they mingle and congratulate the happy couple.
And what would a backyard bash be without the booze?! "The best way to start a party is to offer guests a drink when they arrive," says O'Grady. "It sets the right tone upon arrival."
Serve a signature cocktail in mason jars and add unique garnishes, such as a skewer of frozen green grapes, for a personalized and memorable refreshment.
Lots of signature cocktails are sweet and considered "girly," but the latest mixology trend is to use beer as the base for your drink. That's right: Beer. In a cocktail. Pretty sweet, huh?
As O'Grady says, using a low-cal beer, like Molson Canadian 67, as the base of a cocktail keeps it guilt-free and appeals to both men and women. Here are her fave signature concoctions for a laid-back engagement barbecue.
BBQ Punch: A tropical mix of pineapple, orange and lime juices, a hint of grenadine and Molson Canadian 67, garnished with a lime wedge
Love Bubbles: Chilled mango and cranberry juice topped with Molson Canadian 67 Sublime, garnished with fresh cranberries and a mango slice.
If you throw a relaxed, down-to-earth backyard engagement party like this, your guests will be excited to see what's in store for your wedding!