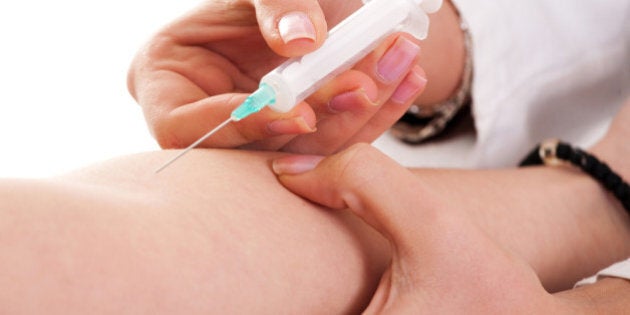 Medical experts in B.C. are seeking to have every person in the province who has ever been sexually active tested for HIV/AIDS, saying the initiative could be "the beginning of the end" of the disease.
Key to the strategy is a test that can reveal in less than one minute whether or not someone is HIV-positive, which was demonstrated at a Vancouver medical conference Wednesday.
"Everybody should be tested," said Ken Buchanan, of the advocacy group Positive Living BC. "Obviously, the people in more high risk situations should be tested more often, but everybody should be tested."
One of the leading experts in the province, Dr. Julio Montaner, says the widespread testing will lead to a very big result.
"Elimination of HIV is possible," said Montaner, Director of B.C.'s Centre for Excellence in HIV/AIDS.
New data shows that recent initiatives to offer all B.C. hospital patients an AIDS test resulted in one per cent of those tested finding out they're HIV-positive.
Montaner said that extrapolating those statistics to the entire B.C. population could mean there are another 3,500 people in the province who are HIV-positive and don't yet know it.
A new advertising campaign also revealed at the conference declares that the testing initiative could be "the beginning of the end of HIV."
"HIV still carries a stigma of fear or shame. It doesn't have the cache or heroism or struggle that's associated with other conditions," said Scott Harrison, Program Director, Urban Health, HIV/AIDS, at Providence Health Care.
But Buchanan noted that more people might be willing to get tested if the process is improved.
"People aren't made aware when they are testing who is going to get that information. And we are also concerned with adequate, pre-test counselling," he said.
Montaner acknowledges that mandatory testing is not an option, but hopes the public will voluntarily join the campaign —especially because 99 per cent of the test results will be negative.