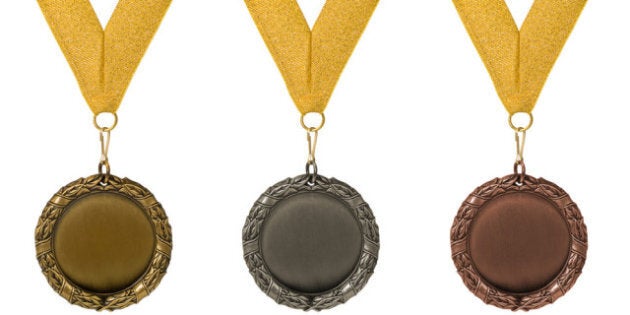 As the world waits for the 2012 London Olympics next week, one sexier version just ended.
In an exclusive poll, online affair service AshleyMadison.com just wrapped up their unofficial Cheating Olympics, awarding countries who performed the most sexual activities while having an affair.
The poll was based on the site's profile users and their preferences of sexual fantasies they would engage in while cheating on their partners. Fetishes, having sex in public and threesomes were all listed as individual categories.
In Canada, we love our leather. We took a gold medal for bondage, gained two silver medals in sex toys and girl-on-girl action, and a bronze in threesome -- yes, we like to keep busy. Bondage shouldn't be that big of a surprise -- sex toys sales have jumped since the release of steamy erotic novel, '50 Shades Of Grey.'
But while one part of the population may be racy, our overall sex lives aren't doing so well, especially for the ladies. In May, a survey released by the Durex Sexual Wellbeing Global Survey, found that 84 per cent of men in Canada can reach an orgasm -- but only 31 per cent of women do. Fortunately, the survey also found that compared with the global average (36 other countries, including the United States and UK), Canadians are better communicators with their partners and enjoy more role-playing games.
So which country in the 'cheating Olympics' brought in the most shiny coins? At least six (Canada, Brazil, United Kingdom, Italy, Switzerland and Spain) tied for first place with four medals each. Argentina, Brazil and Italy brought in the most gold.
Just like any contest, there were some unexpected wins. Brazil, for example, a country known for its sexiness, fell flat by winning the missionary category -- yawn. Meanwhile the United Kingdom, home to the royals, won a gold in public sex. Can you imagine those paparazzi shots?
Is your country a champion at having sex on planes or lagging behind in oral sex? Here are full results: