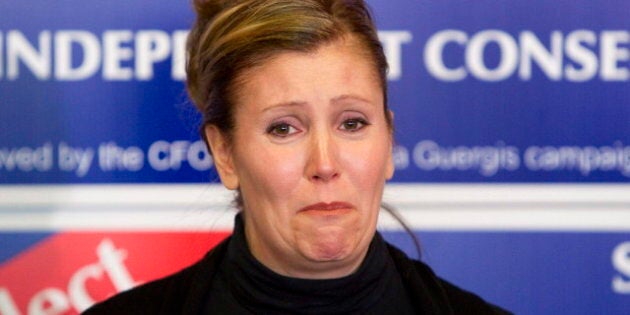 Prime Minister Stephen Harper chose to defame his former cabinet minister Helena Guergis instead of removing her from the Conservative cabinet and caucus lawfully, her lawyer argued Thursday as he fought to keep his client's lawsuit alive.
Harper, Labour Minister Lisa Raitt, Conservative MP Shelly Glover and the other defendants in the case are seeking to have Guergis's lawsuit dismissed because, according to their lawyers, it is full of bald allegations, devoid of facts and related to matters that aren't for the courts to decide.
"These are not bald allegations," Guergis's lawyer Stephen Victor told an Ottawa courtroom on the second day of the hearing. "This is not a fiction."
The lawsuit makes claims of conspiracy, defamation, misfeasance in public office, negligence and infliction of mental suffering. The former Conservative MP for Simcoe-Grey in Ontario and minister of state for the status of women is suing for general damages of $800,000 plus punitive damages of $250,000 and aggravated damages of $250,000.
Controversial removal
After the controversy around her removal from the party in April 2010, she was not allowed back into caucus or to run again as a Conservative candidate. She ran in the 2011 election as an Independent candidate and lost.
Victor said that contrary to arguments by the defendants' lawyers, the lawsuit meets all the legal tests it is supposed to in order to proceed. His opponents argued Guergis doesn't have the facts to back up what she's alleging and want the case to go to trial so she can go on a fishing expedition for them.
"In my submission, this is a proper pleading," Victor said. "It's not just plain bad."
"Just plain bad" is how Harper's lawyer, Robert Staley, referred to the lawsuit on Wednesday when the hearing began.
Victor said Guergis's statement of claim, filed in December, should be read generously and not given extra scrutiny because of who the players are in the case.
He said Guergis is not challenging Harper's authority to decide whether she is allowed in cabinet and caucus but she is seeking redress for his decisions, because he carried them out unlawfully.
The unlawful acts included defamation and conspiracy, Guergis contends. She alleges, for example, that when Harper spoke publicly about "serious allegations" his office had received about her and when he wrote a letter to the RCMP and Parliament's ethics commissioner about them, he committed the defamation.
He could have quietly asked Guergis to leave cabinet and not held a news conference to announce it, Victor said, but instead he put the information in the public domain. By telling the Canadian public that he had received information about her and had involved the RCMP, it left the impression that the allegations were related to criminal conduct and that damaged her reputation, he said.
"He could have removed her from caucus lawfully. He did not do that," Victor said. "He chose to defame her."
Contrary to the argument made by Harper's lawyer, Victor said, everything that Guergis alleges in her lawsuit is justiciable — capable of being decided by a court.
He also rejected the idea that Harper's actions are protected from legal action by the doctrine of parliamentary privilege and that the doctrine also extends to others named in the case: Guy Giorno, Harper's former chief of staff, Ray Novak, Harper's principal secretary, and Axelle Pellerin, former chief of staff to Guergis and later to Raitt.
Harper and the others weren't acting within their official duties when they engaged in a conspiracy to remove Guergis from her political positions and committed defamation, Victor argued. Instead, he said, they acted maliciously and with the intent to inflict mental suffering and other harm.
No breach of duty by Tory lawyer
Guergis stepped down from her cabinet position in the face of allegations discussed between Conservative party lawyer Arthur Hamilton and private investigator Derrick Snowdy. The allegations, according to Harper's letter to the RCMP, related to fraud, extortion, obtaining benefits by false pretences and prostitution.
The RCMP later cleared Guergis of any wrongdoing.
Guergis is also suing Hamilton and the law firm he works for, Cassels Brock & Blackwell. She alleges Hamilton defamed her, telling Harper and others she had used cocaine, associated with prostitutes while using cocaine, and that a video existed of her snorting cocaine off the breast of a prostitute. All of that is false and defamatory, Victor said.
She also alleges Hamilton and the law firm owed her a duty of good faith and should have protected her interests after she sought legal advice from Hamilton a few days before she was turfed from the caucus. Victor did not specify what that advice was related to, but said Guergis was in a vulnerable position.
"She reposed her trust in him," he said. Hamilton, as lawyer for Harper and the party, failed to avoid a conflict of interest and promoted the prime minister's interests over Guergis's, her lawyer said.
Earlier Thursday, Paul LeVay, representing Hamilton and his law firm, argued that Hamilton did not commit a breach of duty when he relayed Snowdy's allegations to Harper.
"She can't reasonably have expected that that wouldn't occur," LeVay said.
Conservative Party argues it can't be sued
Guergis is also suing the Conservative Party of Canada for conspiracy, breach of duty of good faith and negligence. She alleges that her removal as a candidate in May 2010 was done unlawfully and not in accordance with principles of due process or in good faith. She claims her removal resulted in damage to her reputation, political career and well-being.
The lawyer acting for the party, Paul D'Angelo, said the lawsuit against his client should be dropped because the Conservative Party can't be sued for damages: as an unincorporated association, it does not have the legal capacity to be sued.
D'Angelo cited numerous cases to back up his argument and said there is not one instance where a political party has been sued successfully for damages.
Guergis launched the action because she's not happy with the party's decision, he said. In other cases when candidates have been removed, they have sought recourse by appealing the decision through the party's dispute resolution mechanisms or judicial review, he said.
Guergis didn't take either of those routes. Instead, she went to the Human Rights Commission of Canada, D'Angelo said. She lost her complaint there last fall.
The hearing continues Friday.
Read Meagan Fitzpatrick's liveblog of Thursday's hearing:
Mobile-friendly version also available.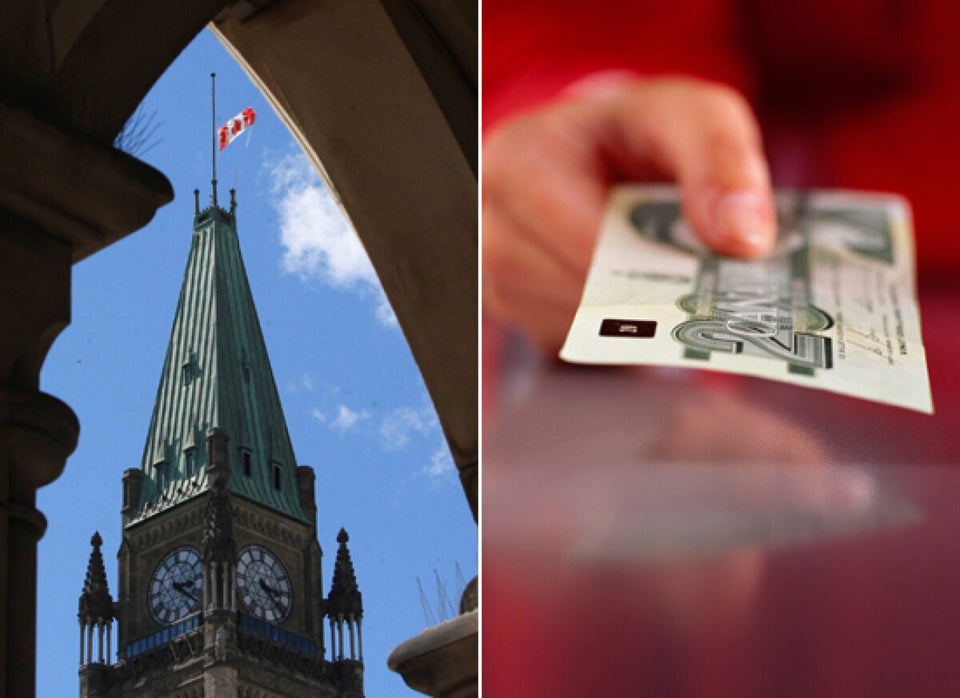 Top 5 Political Spending Scandals