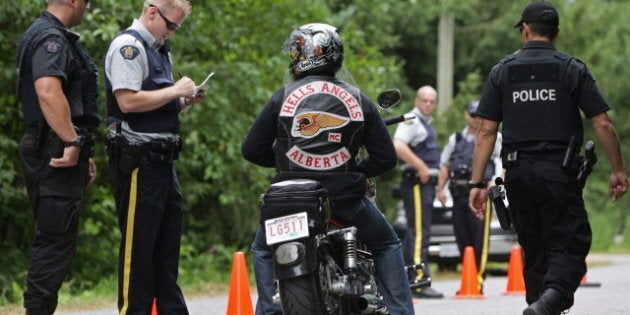 Hundreds of bikers from Canada's most notorious motorcycle gang are rolling into Saskatoon this week.
Hells Angels from across the country are in the city for the club's annual general meeting, drawing the attention of police agencies from across Canada.
The Angels meet once a year in a Canadian city and this year it's Saskatoon's turn.
From Thursday to Sunday, it's expected some 250 Hells Angels members will be wearing their colours and riding their Harleys around the city of 222,000, while police — in uniform and undercover — track their moves.
Gang experts say they have business meetings, hold social events and generally let all the other gangs know the Hells Angels have arrived.
"It's a show of force for the community; it's also a show of force for the underworld," said Toronto Star journalist Peter Edwards, who has written extensively about the outlaw motorcycle club.
"There will be about 250 people in the city riding around with Hells Angels crests on, and there will be other people from junior support clubs, so it makes an impression on people that they're strong."
CBC attempted to speak with a member of the Angels in Saskatoon, but no one wanted to be interviewed about the annual meeting.
While police say the public shouldn't be frightened by the bikers, they also say people shouldn't be fooled into thinking they're just a motorcycle club.
"The Hells Angels are a criminal organization," Saskatoon Police Service spokeswoman Alyson Edwards said.
"They are known, and it has been proven in court time and time again, to be involved in drug trafficking, homicides, extortion. I don't think people should mistake them for an innocent group of motorcycle enthusiasts."
CBC spoke with a local lawyer who's been retained by the Hells Angels to be on standby this weekend.
He said the bikers not looking for trouble and that, in fact, Saskatoon will probably be the safest city in Canada for the next four days.