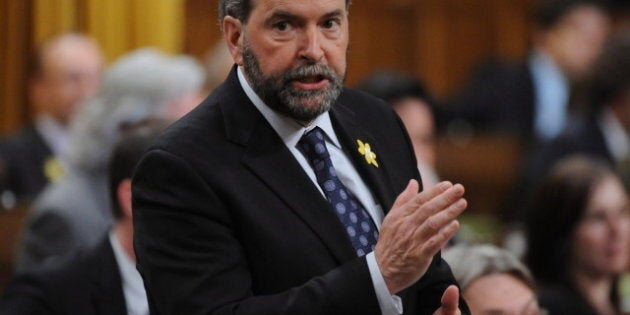 The federal NDP may have lost some of the ground it gained against the Conservatives in the aftermath of Tom Mulcair's takeover as party leader, a new poll suggests.
According to numbers released by Nanos Research, support for the Conservative Party is holding steady at 33.6 per cent among committed voters, compared with 33.5 per cent in May, with the NDP sliding to 30.3 per cent from 33.6 per cent, which had been a near tie with the governing party.
The survey of 1,200 Canadians 18 years old and older was done by telephone between July 7-12. A random sample of that size is accurate to within 2.8 percentage points, 19 times out of 20.
For answers referring to committed voters, the sample drops to 954 people, accurate to within 3.2 percentage points, 19 times out of 20.
The Nanos Research Survey suggests support for the Liberal Party is at 26.5 per cent while the Green Party is at 4.4 per cent. The Bloc Québécois is at 17.2 per cent, up from 13.9 per cent, in Quebec, and at 4.2 per cent nationally.
Parties and party leaders often get a bump in the polls following conventions, which get considerable media coverage. The last poll came out in the wake of Mulcair's win as New Democrat leader.
NDP sees 'political wiggle' in Quebec
Nik Nanos, president of Nanos Research, says the NDP is still doing well and within striking distance of the Conservatives.
"But there's been a little bit of what I'll say [is] a political wiggle in the province of Quebec. We've seen the numbers for the Liberals move up in the last 30 to 60 days," Nanos said.
Quebec is the province with the most voter volatility, he added.
The numbers out of Quebec suggest the NDP has dipped from 41.5 per cent to 38.8 per cent. Support for the Liberals in the province has surged from 17.3 per cent to 25.0 per cent. Because of the smaller sample size in the province, however, the margin of error is plus or minus 6.5 per cent.
"One point a trend does not make, but I would watch those numbers in Quebec to see whether this is potentially a new trend," Nanos said.
Prime Minister Stephen Harper remains the favoured leader, the survey suggests, with Nanos's leadership index giving him an overall mark of 72.7 compared with Mulcair's 46.8 and interim Liberal Leader Bob Rae's 41.5. Green Party Leader Elizabeth May elicits 15.4 and Bloc Leader Daniel Paillé gets a 7.0.
"I think what's interesting is that for the last three waves of leadership index tracking, Stephen Harper is ahead, but he is not at the same level that he's enjoyed since 2006. He is significantly diminished in terms of his brand," Nanos said.
Rae's leadership number is up more than nine points from the May survey, while Mulcair's is down about a point and a half, and Harper's is up by 0.3. Rae's numbers are up about three percentage points on the three indicators Nanos measures, trust, competence and vision for Canada.
The survey also asked respondents to state their most important national issue of concern. Health care was up slightly, from being the top issue for 22.5 per cent of respondents last May to 24.5 per cent in July. Jobs and the economy followed with 23.7 per cent, up 2.5 percentage points from the last survey. The top two were followed by:
- Environment, at 9.4 per cent, a 3.2 percentage point increase.
- Education, at 7.9 per cent.
- Debt and the deficit, at 4.2 per cent.
Just over 11 per cent of people said they were unsure what their top issue was.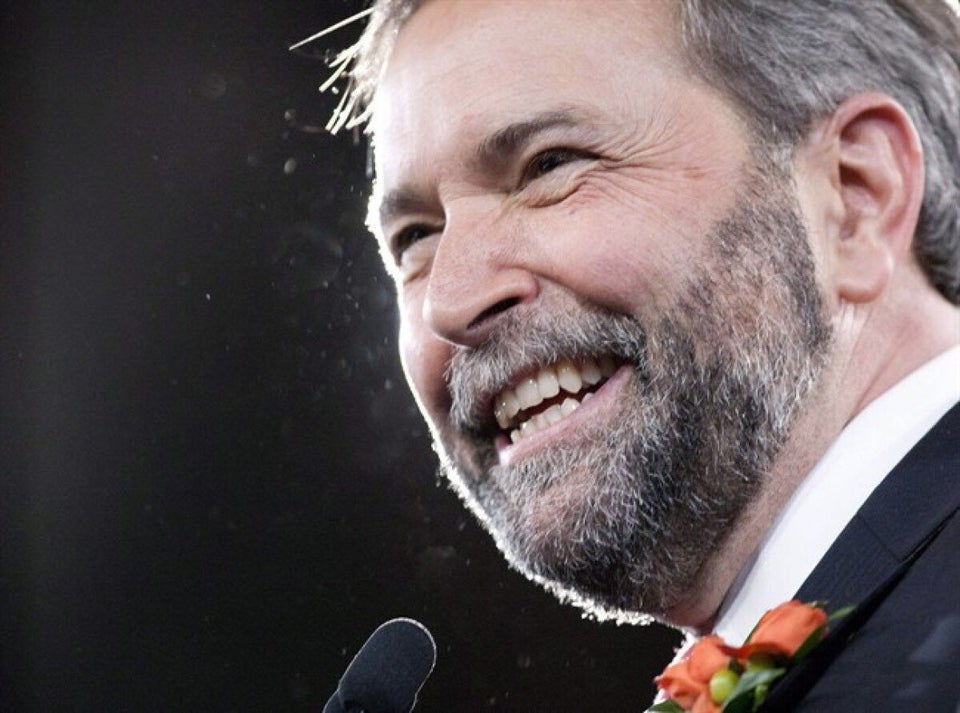 10 Little-Known Mulcair Facts