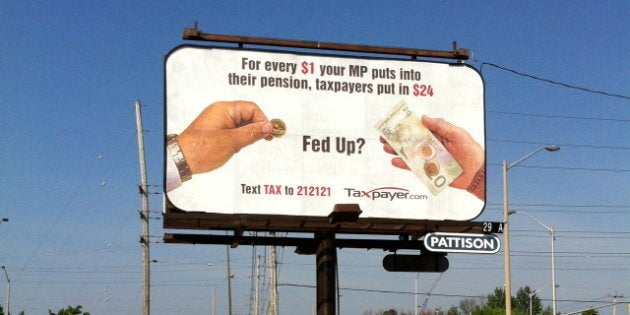 Billboards reading "For every $1 an MP puts into their pension, taxpayers put in $24" appeared in in Vancouver, Calgary, Regina, Ottawa and Halifax on Wednesday.
The ads refer to the fact that most of the funding for MP pensions comes from taxpayers rather than contributions from politicians.
While backbench MPs earn $157,731 a year, Thomas said, an additional $248,000 is added to each of their pensions every year by taxpayers, while they may contribute as little as $10,990.
The system has been rigged so the MP pension plan -- which unlike the Canadian Pension Plan or RRSPs is not invested in the market -- pays itself a 10.4 per cent rate of return.
The objective of the new campaign is to encourage Canadians to pressure MPs to make major changes when the Conservative government takes action on pensions, something widely expected to take place this fall.
"We know the government is planning to modify the MP pension plan this fall, and we want to make sure it's a full-blown overhaul and not just a minor tinker," said Thomas in a press release. "If they go from the current $24 from taxpayers for every $1 from an MP ratio, down to $18 to $1 or $12 to $1, that's simply not going to cut it."
The CTF wants the current program shut down and replaced with a $1 for $1 matching scheme. The group also wants parliamentarians convicted of offences related to their positions to be barred from receiving benefits.
The CTF is hoping to avoid similar scandals in the future by changing the rules.