We can't get enough of Alexandre Despatie.
Perhaps it's because he's fought his way back from a concussion to participate in the London Olympics (something that wasn't a sure thing back in June when he injured himself). Or maybe it's because he's so darn nice. Whatever it is, the 27-year-old Laval, Que. native sets our heart aflutter.
And though he and his diving partner Reuben Ross failed to qualify for a medal during yesterday's three-metre synchronized diving event at the Olympics, we're still rooting for him to win gold during his 10-metre dive on the weekend.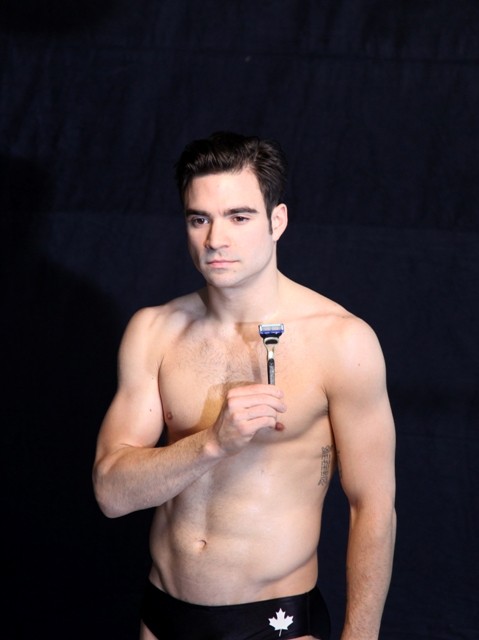 Just in time for his main event, we thought we'd share some of the inside info we learned about Despatie before he headed off to London. The star athlete chatted with us at The Huffington Post Style Canada about his favourite things and what he planned to pack for the summer games.
Want to know what products/items are always by his side? Check out the slideshow below.
Fashion Magazines
"I'm a huge fan of fashion and, on my downtime, I like to stay up to speed on men's fashion trends. Wherever I am in the world, I usually pick fashion mags up at the airport. I was recently on the cover of Men's FASHION, one of my favourite Canadian magazines (it was a huge honour and a very cool experience)."
Cologne
My favourite scent is Hermes.
Gillette Products
As a spokesperson for this razor company, Alex knows a thing or two about keeping his skim smooth. He told us he uses the Gillette Shave Gel and ProSeries Soothing Moisturizer religiously. "I'm in chlorine a lot and I have to take extra care of my skin, so keeping hydrated is very important to me."
iPod
"I like to listen to music while travelling, so this is a must. I'm currently listening Coldplay, Foo Fighters, Sam Roberts Band and electronic music."
BlackBerry
"I like to stay connected to my fans through Twitter and I'll be tweeting my way through the Olympic Games. Make sure to follow me @ADespatie!"
Laptop
"I'm a big fan of TV and movies, so this is an easy way for me to unwind. My favourites to watch are 'Moneyball,' 'Inception' and '30 Rock.'
Favourite Snacks
Candy for a treat!
Passport
"I've been lucky to travel all over the world and my passport never leaves my side."
Speedo And Pool Shoes
These are very important pieces of clothing... I can't compete without them!"