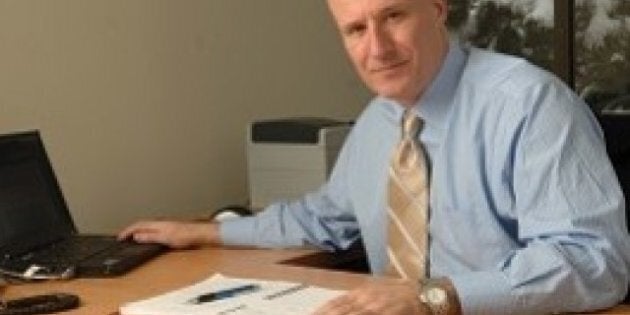 Stewart Hardacre, like many young adventurers, wanted to bask in the glory of travel, and extended his trip to Machu Picchu by volunteering with Habitat for Humanity, a company with which he was only vaguely familiar with at the time. His experience in Bolivia changed his life forever. Though he went into his travels thinking Machu Picchu would be the highlight, he left being forever marked by the Habitat for Humanity experience. "There was a profound bond and connection," he says. "You're building alongside people, and that stays with you." Hardacre has made this rewarding experience part of his daily life as President and CEO of Habitat for Humanity Canada. We caught up with him to get the full rundown on the housing crisis in Canada, families in need and how giving back takes on a life of its own.
Habitat for Humanity Canada is dedicated to finding a solution to our national housing crisis. How severe is that crisis?
It's not just Habitat for Humanity that speaks about the situation in these terms, it is actually described by the UN (United Nations) as a crisis. Homes and prices in the last little while make us question the affordability issue. There is also a health issue; whether the homes are in good state of repair and condition. A lot of kids are coming from some fairly bad states of housing where they might have asthma and health conditions that are being exacerbated by the houses they live in; they have don't have proper heating and there is mould growing on the walls. There are approximately 1.3 million families living in need (in Canada).
The other condition that exists is the size of the home being inappropriate for the family member. We see this in a variety of ways; we often have mom and dad and kids living in a one bedroom apartment. More often than not, kids don't have a proper space to call their own.
How does Habitat for Humanity Canada address this crisis?
Safe housing is what it's all about. Our homes are built based on the size of the family, so there is no cookie cutter approach -- things match the environment. We don't have a single house design but we do follow guidelines surrounding safety, security and affordability. Our approach is the same in all our programs here in Canada; it's a model of true community partners. We build simple, decent and affordable housing. Our families are paying less but they are in a better environment. It's not charity, it's not a handout -- they are part of a future. We consider ourselves a permanent solution to the cycle of poverty.
Do families with Habitat for Humanity have much say over the process of receiving their house?
We insist on our families being called partners because they are benefactors -- we don't give the homes away. They earn it, they have to qualify; they need to be working with a low-income. If they're at or below the poverty line, they satisfy the criteria for becoming a family that works towards getting a home. They need to be free of debt and they need to be willing to do sweat equity (labour that Habitat homeowners expend in building their houses). They also have to update us going forwards; we instill training and preparation in potential homeowners. Things like repairs and insurance are things they've never had a responsibility for before, so we prepare them for home ownership.
Habitat has a lower default rate than banks do on their mortgage arrears. This is because there is support, preparation and appreciation for the opportunities. We have an obligation to deal with our donors, for them to be on track. They are making the investment to work with Habitat for Humanity Canada. They are the architects of their own future.
What have been Habitat for Humanity's major achievements?
I think our biggest achievement is our engagement of volunteers -- from large cities to small towns, we reinforce the power of community. Habitat for Humanity works well everywhere and I think it's because we're able to tap into that shared community and have that desire to have good neighbours and build healthy communities. What's amazing to me is how many circumstances Habitat has taken and done well with; it is an international movement active in 80 countries worldwide. We've been here in Canada for more than 25 years so if you compare us to other philanthropic organizations, Habitat has a much shorter history, but it's exploded to become a leading charitable organization in affordable housing. To me, it's the power it taps into -- the willingness to engage so powerfully and so compellingly with volunteers and families; it's our secret formula.
You seem very tuned in to the families and volunteers that are a part of Habitat for Humanity. Can you recall individuals who have experienced especially inspiring challenges?
The first house that was ever built for Habitat for Humanity was built in what is now the Congo in Africa. The gentleman who came to sign his mortgage contract didn't know how to write, and so he just put a mark beside his name to sign off. At that home dedication, he had two young daughters and they grew up to be lawyers. One of them continued to help and serve Habitat for Humanity. It's an example of how much of a different outcome you can get with a little investment and a lot of heart.
Do you see Habitat for Humanity Canada changing over the next 5 to 10 years? If so, how?
Right now, the biggest constraint for us is access to land. It is rarely donated and we often have to purchase it on the market –- this is our biggest obstacle and when we're paying for it, the best way we can translate that into an effective home from a cost perspective and to be responsible with all of our donations is to build multi-units; we have already moved in that direction in a number of centres and it's going further and further in that direction. We are building multi-unit homes instead of single, detached homes.
From a program perspective, our desire is not to change what we do but to be a stronger advocate or voice around the affordable housing issue. We want people to look beyond the standard perspective they have with regard to affordable housing, to move from being dependent upon social programs to being part of a community.
If you're looking at just a roof, that's all you'll see -- a roof. We look at it as a holistic approach in terms of community and often were trying to educate people on the other side of the fence; It's not just to put a roof on someone's head, it's to change their lives.
What is the reality of the aboriginal housing crisis that people don't see?
What I am aware of is that the extreme example we saw and heard of in Attawapiskat is not the exception -- there are hundreds of families in northern Manitoba and northern B.C. that look and feel and sound exactly like Attawapiskat.
How is Habitat for Humanity involved in the aboriginal housing crisis?
Chief Shawn Atleo was just on our election council; he has been involved with us for six months. The difficulty we face on reserve lands is that the aboriginal community doesn't have ownership of their land, and housing Is a federal responsibility to that group. We're trying to find ways to get land leads to this so we can have more work in these communities. We do have an aboriginal build-up in Yukon -- they have settlement lands, they were given land as settlement and they came to local Habitat affiliates and asked for housing. There's going to be a project there this fall.
Do you have a message to Canadians about taking on a social cause in some way or another?
The perspective of when you give something away in a charitable endeavour, whether it be money or time, is I think you get something in return a hundred fold. There's a saying: "You make a living by what you get; you make a life by what you give". That richness of life is complete when you have blessings of many things like health and family, but the full blessings of life come when you are giving yourself to those in need, whether that be here at home in Canada or elsewhere.