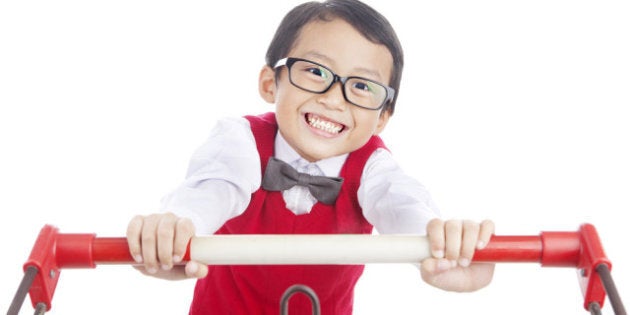 TORONTO - With the start of classes mere weeks away, the scramble to stock up on everything from laptops to shoes is on.
But analysts predict that back-to-school sales will grow only modestly this year compared to last, as consumer confidence remains low and Canadian retailers face growing competition from south of the border.
Back-to-school spending is set to increase by 2.5 per cent in Canada this year compared to last year, according to recent data from Ernst & Young.
Daniel Baer, national retail industry leader at the firm, said while the increased spending is in line with population growth and inflation, it is much lower than the 6.5 per cent increase in pre-recession seasonal spending seen from 2006 to 2007.
Baer said hesitant shoppers may be reacting to stories about how Canadians are too indebted and living beyond their means.
"Consumers' low confidence level means they are careful, looking for bargains despite brand loyalty, and aren't hesitant to compare prices before buying," said Baer.
Mark Satov, founder of management consulting firm Satov Consultants Inc., said he isn't surprised by the prediction of modest growth, considering the high level of uncertainty among consumers.
"Every time we think we're coming out of the recession, we have something else that shakes consumer confidence," said Satov.
"People are worried about the American economy, they're worried about the European economy, they're worried about the housing slump. Since the recession, we've not really had a sustained period of great confidence."
Increased competition from south of the border as a growing number of Canadians opt to buy online from U.S. retailers or cross the border in order to take advantage of lower prices could also play a role in the decrease in spending.
Baer said Canadian retailers are feeling the pressure of higher exemptions for duty-free shopping south of the border.
As of June, Canadians staying in the U.S. overnight can now bring $200 worth of merchandise home, up from the previous limit of $50. For those travelling for two to seven days, the limit has doubled to $800, from $400.
"Canadian retailers certainly sense that there is more competition because of these additional exemptions," said Baer.
"We do hear that it's starting to have an impact."
The growing popularity of online shopping also makes it easier for bargain-hunting consumers to order items from the U.S. instead of buying them from local stores, said Baer.
Even with shipping and duty added, some items may still be cheaper to order from the U.S., especially if they're on sale, said Baer.
"Consumers have so much information at their fingertips, so it's much easier now to compare prices and products," said Baer.
These competitive pressures from the U.S. have pushed the Canadian back-to-school shopping season a whole month earlier, from the beginning of August to the beginning of July, as Canadian retailers scramble to match sales south of the border, said Baer.
Baer said the shopping season in the U.S. begins sooner because retailers there are more aggressive in promoting their back-to-school items, and kids typically begin classes slightly earlier.
"Canadian retailers need to look even more closely at what's happening in the U.S. marketplace, because as people go on holidays in July and August, they might react to U.S. sales," said Baer.
Meanwhile, he expects regional variations in seasonal spending to mirror last year's trends.
Resource-rich provinces like Alberta and Saskatchewan, where unemployment is lower and consumer confidence is higher, are expected to spend the most.
Manufacturing-dependent Ontario will likely stay below the national average, says Baer.
Quebecers are also expected to shop less than their provincial counterparts during the back-to-school season, as tax hikes in recent years have discouraged spending.
The electronics sector is expected to outperform other sectors, as increasingly younger students snatch up items such as laptops, smartphones and tablets for school.
"Technology has become more of a core in terms of the learning experience," said Baer.
"More and more classrooms are now using e-readers and iPads."