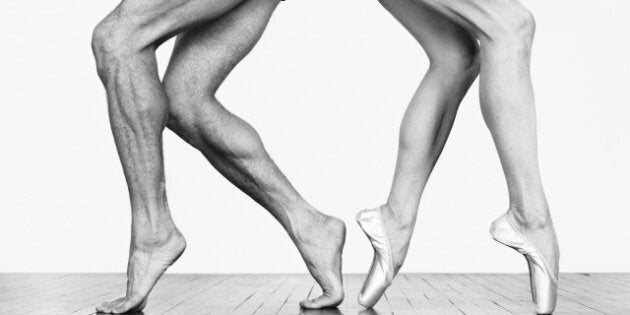 Each week, The Huffington Post Canada's Living team will try out something that has sparked our curiosity, and as long as we live to tell the tale, we'll let you know all about it.
What It Is: A combination of traditional ballet moves and dance, this class focuses on building cardiovascular stamina and muscular endurance -- without using any barres.
RZ: If you're anything like me, you probably think of ballerinas as being these tiny, delicate creatures who basically float above the ground, and would never do anything as crass as grunt or lift weights. Oh, how wrong I am. The hour-long workout, based principally on basic jumps and squats performed incredibly quickly, entailed a whole lot of sweating and grimacing, and showed off just how fit you must be to practice ballet in any form. We didn't use weights in the bootcamp class we tried, but there are other classes that give the option -- and besides, as our instructor said, holding your arms up for a hour is just as difficult as lifting anything else.
AP: Probably the one thing that struck me most about this class was the pace -- it was fast. Leaps, jumps and plies with a mix of fun dance music made up most of the super tiring workout. Our very fit (and not at all tired) instructor took us through several traditional ballet moves -- like balancing on our toes or lowering and arching our backs, for example -- while strengthening our core and stretching our legs.
Oh, and prepare to sweat. Even with fans spinning in the background, moving your arms, legs, core and head intensely to loud music definitely sends some droplets down your back. I also was a bit far from the instructor, I would recommend newbies working out up close -- just in case you miss instructions.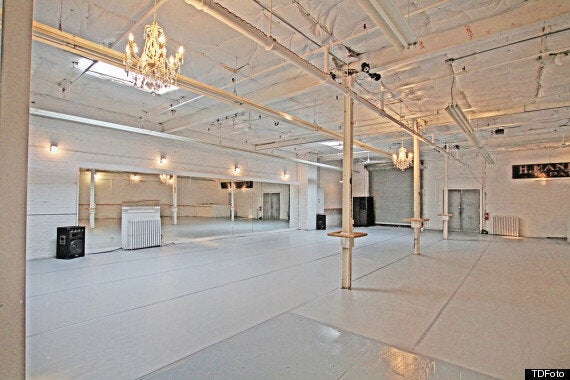 RZ: When Jenn, the instructor, asked about dance backgrounds before the class started, I assured her my years of jazz and musical theatre would help me keep up. And I was right, to some extent. Having some familiarity with choreography is definitely helpful, because this class just goes -- there's not a ton of time to learn proper moves, or even what terms like "port de bras" (i.e. how the arms are positioned) mean for your movement. The instructor does stop and explain how your core should be working and legs should be pointed, but then the music starts, and it's pretty easy to just flail along. Based on the other students in the class, however, it looked like given enough time, you get to know the terms and can follow along, if not flawlessly, then at least not embarrassingly.
AP: Like any dance workout, this isn't as easy as it looks and it may take me a few classes to actually catch up and follow every move. The pace did slow me down a bit and by the time I ended up understanding one dance move, the instructor was onto the next one -- I definitely would stand closer next time. But in terms of a workout, it was great. My abs, arms and legs were sore the next day and my back felt more relaxed than ever -- especially after sitting at a desk for eight hours a day.
AP: Workout facing a mirror and sit up close -- following the instructor will be the easiest way to pick up every move at a quick pace. And don't be afraid to take a break or add your own little dance moves in between -- especially when your favourite song is playing.
RZ: Actually, don't be afraid in general. Even if every other person in the class was a semi-professional dancer (we're giving the one we attended a 70/30 split in the pro direction), everyone's too busy concentrating on their form and their workout to worry about you looking a little bit silly as you try to jete across the room. The long, lean muscles these exercises help to achieve are very much in evidence in the class, so that's a pretty great inspiration. So relax, enjoy, and yes, even laugh -- it's not an uptight workout, but something different and fun that's definitely worth a try.
Have a suggestion for a Test Drive? Tried something you loved or hated? Let us know on Twitter at @HuffPostCaLiv, or in the comments below.
Check out these other products we've put to the test: