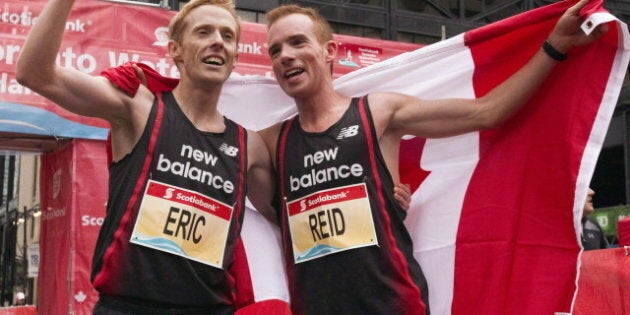 UPDATE, Aug. 12: Dylan Wykes finished in 20th in the marathon in a time of 2:15:26. Fellow Canadians Eric Gillis finished 22nd (2:16) and Reid Coolsaet (2:16:29) in 27th.
Dylan Wykes' road to London began with a fall, at the start line with 7,000 runners behind him, his knees scraped and bloodied by the slip. Some two hours and 10 minutes later, he put the finishing touches on a searing performance in Rotterdam, the second fastest ever marathon time by a Canadian and a ticket to the Olympics.
Wykes, a Kingston, Ont. native now based in Vancouver, knows he has no logical chance to medal while representing Canada among a deeply talented field that is dominated by Kenyans and Ethiopians.
On Sunday morning, the event will get its big showcase. In these Games, perhaps more than any in the past, the marathon hits a cross road with a sport that's experiencing a boom. Rightly so, as the marathon was an event created for the Olympics and the 26.2-mile route was forged on the streets of London more than a century ago. The Olympic marathon has historically closed the Games as one of the final events, with the winner entering a packed stadium to take their victory lap.
"It's the biggest stage," Wykes told HuffPost Canada as he was training at altitude in Switzerland before the Olympics. For Wykes, a top 25 performance is a goal, and a top 10 finish a dream. "There are guys who have run 2:04, there are guys who are six minutes faster [than his personal best]."
In the 12 years since Canada last sent a man to run the Olympic marathon, the sport has gone through a massive change, as a surge of popularity ushers in the next generation of runners.
Since 1908, when Olympic organizers decided to add two kilometres to race course so that royalty could view the finish, the 42.2-kilometre marathon has become the modern everyperson's Everest, the bucket list item that thousands upon thousands of men and women have now crossed off.
The word marathon has been synonymous with epic times, seeped into public consciousness, and applied to sedentary affairs like the airing of TV reruns, extended tennis matches or similarly drawn-out affairs, even as the marathon records continue to get faster.
In big-city marathons, where professional marathoners earn their money, the elites are joined by runners of all stripes, sizes and speeds. The biggest of them all bring in more than 45,000 runners. The most recent running boom, has seen women take on the sport (and racing) in massive, greying numbers. Last year, almost 14 million people participated in a road race in the United States, with 55 per cent of those finishers were women. Canada has experienced a similar boom, particularly in the half marathon.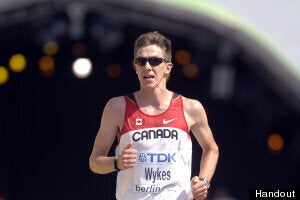 Last year in the United States and Canada, marathons saw more than 550,000 finishers, up 12 per cent from two years prior. Meanwhile, the more popular half-marathon distance grew to an astounding 1.6 million finishers in the United States when in 2000 482,000 people finished the 13.1 mile distance.
Running, the sport that seemed so simple, has become big business, raising more than $1-billion for charity in the last year. The lifestyle spills over onto sports wear (Lululemon), shoes (support or barefoot), nutrition (Gatorade, coconut water, chocolate milk) and even social circles, like group training runs done in one of 114 Running Room retail stores or the now well-established running blog community.
So common is the marathon that it does not escape popular culture.
More participation by citizens have happened at the same time that long-distance running has resurfaced in the United States and Canada. The 2004 Olympic marathon spurred on much North American interest after Americans Meb Keflezighi won a silver and Deena Kastor a bronze in Athens. And runners such as Ryan Hall, a California native whose best times put him in the hunt against the Kenyan elite, put a lot of hope that speed and endurance can come from North America.
To be sure, many other sports other than running have seen massive growth, but the connection the recreational runner has with the sport's elites is unparalleled. At the start line of the Boston Marathon in Hopkinton, Massachusetts every Patriot's Day in April, the few dozen elite men women charge up and down the technical course, chasing more than $900,000 (U.S.) in purse money and the prize of the world's most revered marathon.
TheBoston Marathon, widely regarded as the amateur runner's crowning achievement, demand for the 21,000 spots has grown so quickly in recent years that organizers have had to toughen qualifying standards.
That mixing of recreational and elite is a rare occurrence in any sport.
Meanwhile, the times are getting faster. When Canada last fielded a marathoner at the Olympics, the world record was 2:06:06, but in the last six years, a series of blistering performances saw that time lowered first below 2:04, with now the current setting of 2:03:38. The field of Kenyans is so deep that the world record holder for Kenya did not make his country's team. Marathon times during the Olympics are not expected to be on par with world record as ideal temperatures are usually during the fall months. But in Beijing, Kenya's Samuel Wanjiru defied the skeptics who never thought fast times could be done in such hot climes. He clocked in at 2:06:32. Wanjiru died in 2011 after falling from a balcony.
This Sunday's Olympic marathon is held in a city that now convenes one of the world's biggest marathons. Unlike Beijing, which four years ago featured miles upon miles of lonely running, organizers are expecting wall-to-wall crowds of the looped course, as deep as First Avenue is on Marathon Day during the New York City Marathon every November.
Wykes, Reid Coolsaet and Eric Gillis, Canada's three men who will be racing in London are three of the best marathoners this country has produced since Jerome Drayton carried the Canadian banner, and will be tested on whether they can lower the Canadian record of 2:10:09, a time set in 1975, before any of the three runners were born. They met tough qualifying standards at races in the past year.
Wykes, who describes his preparation for the marathon as his "sole job," says he's approaching the race by trying not to get too excited. "I want to try to run a smart first half and not let the emotions of the Olympics get to me and hopefully let the emotions channel the last half," he told HuffPost.
Just a few days into the Games, Wykes was told to attend a luncheon with other athletes, and suddenly found himself face to face with the Queen. Making conversation, Wykes told her he'd be running by Buckingham Palace, as the Games come to a close.
"I told her she could watch my race from her window at home," he wrote on his blog a few days ago. "She politely told me she would prefer to watch on TV."
Back home in Canada, runners in the midst of their marathon training seasons will be making room in their weekend running schedule to do the same.
The men's marathon is on Sunday, Aug. 12, start time 11 a.m. in London or 6 a.m. ET.
Kenny Yum is HuffPost Canada's managing editor and a 20-time marathoner. He writes on running, racing and training at his running blog A Whole Lot Of Soles.