Twitter
The Canadian men's 4x100 relay team were disqualified in London, but they've won a medal that's perhaps even more precious than Olympic bronze.
Elijah Porter, a 10-year-old boy from Newfoundland, wrote the men a heartwarming letter and sent his own Timbits medal along with it.
"When I heard what happened on Aug. 11, I knew it was wrong," writes Elijah. "The rules were not right."
The team were celebrating a third-place finish when they were hit with devastating news: they were disqualified. After the standings had already been announced, judges reviewed the race and saw that team member Jared Connaughton had stepped on the line during a turn, a violation that is grounds for automatic disqualification.
Teammate Justyn Warner posted the letter on Twitter.
Although Elijah isn't too pleased with the relay rules, he knows that being Canadian means keeping your head up.
"We're Canadian. We persevere," writes Elijah. "We create better lives for each other. The cold didn't stop us from living in the North. We didn't lose the War of 1812."
(Looks like the Ottawa's $1.64-million Olympic War of 1812 ad campaign didn't go to waste.)
When Elijah grows up and becomes a rich biologist, he says he will donate money so that future Canadian Olympians can take a shot at the podium (if he remembers).
Read Elijah's full letter: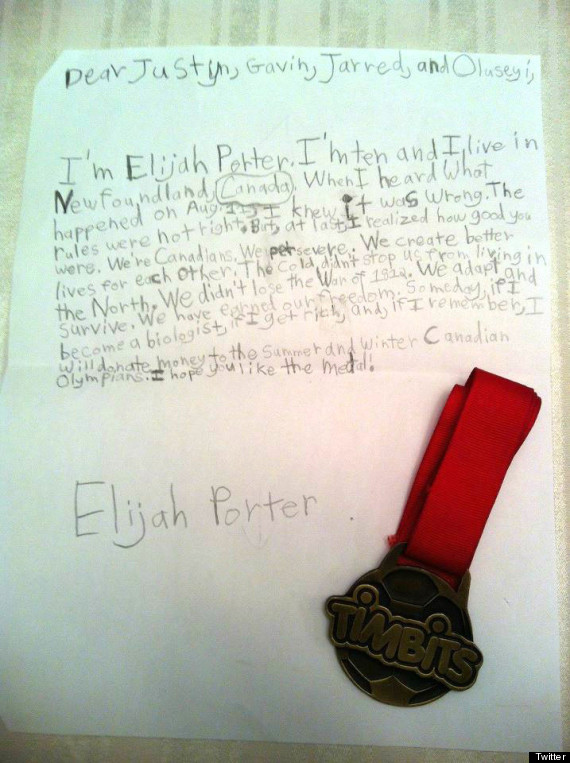 Also on HuffPost
Canada's Disqualification From The 4x100 Relay