 VANCOUVER - A British Columbia newspaper mogul has injected himself into the debate over the controversial Northern Gateway pipeline, revealing a proposal Friday for a $13-billion refinery to export processed fuels rather than oil-sands crude to Asia.
David Black's plan prompted immediate skepticism from First Nations, politicians and observers. They noted the proposed refinery in Kitimat, B.C., does nothing to solve the environmental concerns of the pipeline and pointed to Black's own admissions that he has no investors, no confirmed buyers and no commitment from Northern Gateway proponent Enbridge (TSX:ENB) to actually access the raw bitumen.
Still, the addition of Black — a high-profile businessman whose company Black Press Group Ltd. owns newspapers in Western Canada and the United States — brings a new dimension to a debate that has consumed B.C. politics, and it could spark a renewed discussion about whether Canada should be refining Alberta crude itself.
"Do I think it will change the debate on the pipeline? Yes I think I do," Black told reporters in Vancouver as he detailed his proposal.
"We all need to discuss this thing and make up our mind together, so I'm hoping this will jump start a change in the debate. Rather than just saying, 'Can't see anything in this for us, let's say no,' instead of that, let's say, 'How can we work with this, work it to our advantage, get a lot out of it and solve any potential problems at the same time?'"
Black said he's preparing to submit a proposal for an environmental assessment that would see a massive, 10-square-kilometre facility in Kitimat on B.C.'s northern coast near the Queen Charlotte Islands, or Haida Gwaii. He plans to pay for the assessment but rely on investors to fund the refinery.
The facility, as Black envisions it, would be the final stop along the Northern Gateway pipeline between Alberta's oil sands and the B.C. coast. Rather than shipping that crude oil to Asian markets to be processed, which is the current plan, Black wants to process it in B.C. into fuels such as gasoline, kerosene and diesel.
Black said doing so would eliminate the need to transport oil sands bitumen — a thick, black substance similar to oily asphalt — along B.C.'s coast. Instead, he argued processed fuels are much safer because they quickly evaporate and would be easier to contain and clean up in the event of a spill.
He also said the project would create thousands of jobs — 6,000 during construction and 3,000 when it's up and running — and provide the provincial government with much-needed revenue.
Black said he's raised the issue with Enbridge and the federal and provincial governments, but acknowledged he has so far received no formal support.
Enbridge released a statement that did little more than acknowledge Black's proposal while noting the company is currently focused on ongoing National Energy Board hearings for the Northern Gateway pipeline.
"Mr. Black had shared details of his proposal to us for our information," said the statement. "Our focus remains on the regulatory process reviewing our application for Northern Gateway."
Black said he met with Premier Christy Clark nearly a year ago and has met with provincial officials on other occasions since then. Clark was on holiday and unavailable to confirm the details of that meeting, but her energy minister issued a statement saying he would like to know more.
"Like all major projects, this would have to successfully complete an environmental review. We look forward to learning more details about the proposal," Rich Coleman said in the statement.
The B.C. government's own position on the pipeline could scuttle the refinery idea altogether. Clark has issued a list of demands for her government's support, namely a larger share of the energy royalties associated with the project.
The pipeline project has also faced fierce resistance from First Nations groups and opposition politicians, none of whom seemed convinced by Black's proposal.
Art Sterritt, executive director of the Coastal First Nations, a group that represents several aboriginal communities along the West Coast, confronted Black at his news conference.
"The oil you're going to be sending out there and the quantity of ships and the air quality you're going to be affecting in this geographic area are going to have the same results as sending crude oil offshore," said Sterritt, who also criticized Black for not consulting First Nations before making his announcements.
"I suggest that if you really want to do business in the north, you should really be out there talking to First Nations before you start making announcements."
Black said he's had informal discussions with two First Nations whose territory would be affected by a refinery. The proposed refinery site is on the traditional territory of the Kitselas First Nation, while the marine terminal is in the traditional territory of the Haisla First Nation.
Haisla Chief Ellis Ross confirmed he's spoken with Black, though he hadn't received any formal proposal.
Ross has firmly opposed the Northern Gateway pipeline over the risks of a potential oil spill off the coast. He agreed shipping processed fuel would be safer than bitumen, but he said there were still many unanswered questions about Black's plan.
"I still have a lot of questions about it, but there's one thing I do know for sure: our people will not agree to ship bitumen or crude through our territory," Ross said in an interview.
The federal and provincial New Democrats each reached for an obvious pun, both dismissing Black's proposal as nothing more than a "pipe dream." Critics for both parties stressed Black does not have any investors, buyers or commitments from Enbridge.
Energy analyst Roger McKnight of Oshawa-based En-Pro International Inc. raised doubts that Black's refinery idea will ever get off the ground.
McKnight said even if the Northern Gateway pipeline is approved — far from certain given the political climate in B.C. — he doesn't think it would be economically feasible, particularly if Black's goal is to target Asian markets.
He noted major oil companies have been shutting down refineries in Canada, not opening new ones, and he said the Chinese are primarily interested in raw crude to process themselves.
"It doesn't take them 10 years to build a refinery (in China), they can have it up and running in two years," McKnight said in an interview.
"Why pay a refinery to refine the stuff when you could always do yourself and you could probably do it at a lower cost?"
There have been no new refineries built in Canada since 1984. The last refinery built in the United States was in the 1970s.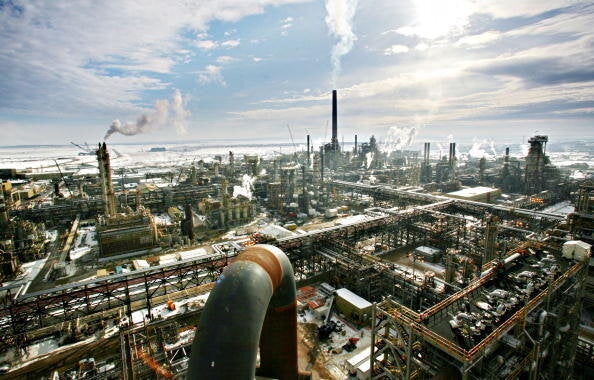 The Oil Sands and Canada's Environment