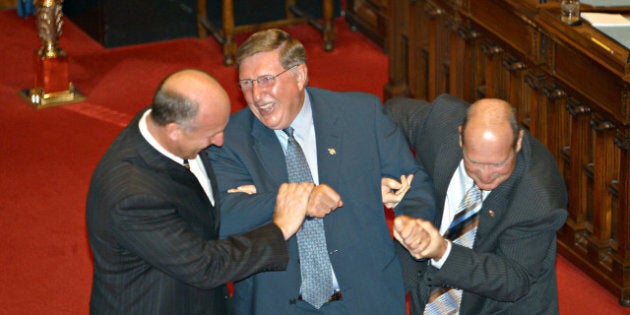 PENTICTON, B.C. - Penticton, B.C., Liberal MLA Bill Barisoff has ended months of speculation about his political future by announcing he won't seek re-election in the 2013 provincial election.
"I have enjoyed an incredible journey in my time as a member of the legislative assembly," Barisoff said after telling friends and supporters about his decision on Sunday. "Watching the Okanagan transform over the past 16 years has been a great honour, to be a part of it."
He said he wasn't planning to run again in 2009, but felt there were some projects, such as the Jim Pattison Centre for Excellence at Okanagan College in Penticton, which he wanted to see completed.
Barisoff, 63, was first elected in 1996 as an opposition Liberal MLA, barely squeaking past NDP incumbent Bill Barlee by fewer than 30 votes.
He was re-elected three times, securing 44 per cent of the vote in 2009.
Barisoff has also served as house speaker since 2005, and was the first in more than four decades to be re-elected to the position. He also served as minister of water, land and air protection, and as minister of provincial revenue.
Born in Oliver, Barisoff served for 18 years on the Southern Okanagan school board as trustee including eight years as chair before entering provincial politics. He owned and operated his family's trucking business.
The past term had its share of controversy.
Premier Gordon Campbell stepped down when his approval rating dropped to single digits. Barisoff, who chairs the Legislative Assembly Management Committee, also felt the ire of the auditor general after the committee's handling of legislative finances drew harsh criticism.
Premier Christy Clark said Monday that Barisoff's retirement is a loss for the people of B.C.
"For decades, Bill Barisoff has diligently and conscientiously represented his community and constituents, both at the provincial level and locally, and I would like to thank him for this dedication to public service," she said.
Connie Denesiuk, past-president of the B.C. School Trustees Association, has announced that she intends to seek election to the Liberal riding after Barisoff retires.
As for the future of the B.C. Liberals, Barisoff said he's not worried about the party's present situation in the polls.
"When I won in 1996, I don't think anyone thought I had a chance. It's going to be a close election, but it will go down to one riding at a time and Premier Clark is doing her part. It's going to go down to a lot of hard-work."
Barisoff said he'll remain active in the party, but has no immediate plans. Instead, he and wife Edna are looking forward to spending time with their three young grandchildren.
"Between being MLA and on the school board, after 35 years of public life, it will be nice to be able to spend a lot more time with my family. I enjoyed every minute of public life, but it's now their time." (Penticton Herald)