This feature was produced by Chris Hampton, a student in Ryerson University's School of Journalism, in partnership with The Huffington Post Canada.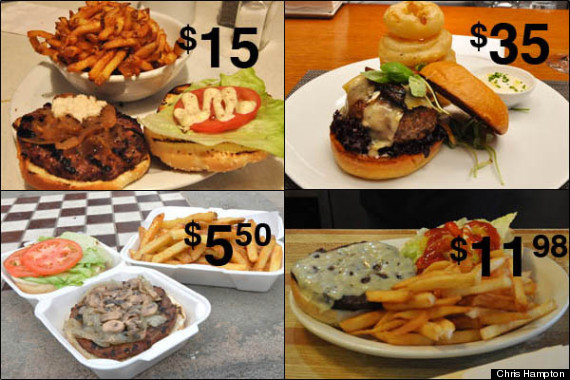 Clockwise from top-left: the Sirloin BQM Burger from BQM Diner, the Bymark Burger from Bymark, the Barbarian from People's Foods, and a burger and fries from Mr. Tasty Fries
The hamburger has taken Toronto by storm. With some restaurants charging as much as a steak dinner for a burger and fries, how do some of this city's most iconic burgers stack up?
While a burger and fries have long been the quintessential North American fast food, we're in the midst of a hamburger renaissance. From food truck fare to fine dining, Toronto's got a plate of burger and fries for every budget.
In the 1920s, when White Castle, a small Kansas diner, started selling five-cent patties made out of hamburger — then one of the cheapest grinds of meat available — it was a poor man's meal.
Potatoes have been peasant food for even longer. Complex carbs that are filling, cheap to grow and easy to prepare, they are the fourth most popular food crop in the world. Despite the French moniker, 'frites' require little culinary technique. Cut, cooked in oil and salted, french fries are a famously cheap way to prepare potatoes.
But Toronto's burgers have long outgrown these humble beginnings. You can still get a burger and fries that costs as little as five dollars, but some Torontonians are willing to spend upwards of $40 on a plate. Gourmet diners and burger shops are serving burgers made of Kobe beef and words like foie gras, and white truffles are entering the burger vernacular.
As we visit the kitchens that make some of Toronto's most iconic burgers we ask just how diverse can a burger—and its price—be?
A Good Old Burger And Fries
While Toronto surges with trendy gourmet burger joints, one Annex diner has stood the test of time.
People's Foods, opened at 176 Dupont St. in 1963, has charmed generations of locals with its tableside jukeboxes, red vinyl booths and piled-high portions.
While the autographed glossy of Peter Mansbridge hanging from the wood-paneled back wall says, "Best eggs in town," second-generation owner Emmanuel Tsatsanis says it's their burgers that have made them famous.
Take "the Barbarian" — an eight-ouncer made from ground prime rib. While the prime rib burger is a staple on the gourmet circuit, few kitchens can put one together for as little as $8.99, or $11.98 with fries. The meat comes in pre-ground from Barberian's Steak House, where a burger costs no less than $20.
Chef Nick Karras makes the patties every morning. He mixes the ground beef with breadcrumbs and People's secret blend of spices before portioning it and pressing it into patties.
The burgers are charbroiled, topped with lettuce, tomato and onion—bought local when in-season—and sandwiched between fresh kaisers delivered daily from Olympia Bakery.
The fries aren't made in-house, but they do the trick just fine. "We used to make them here, but there isn't enough room to make that many fries," Tsatsanis says. The backroom where chef Karras makes the burgers is tiny — maybe 25 square feet — and nearly every plate gets fries on it.
And this is why the name People's Foods makes sense: they serve heaping plates of tasty, casual food, priced for everyone.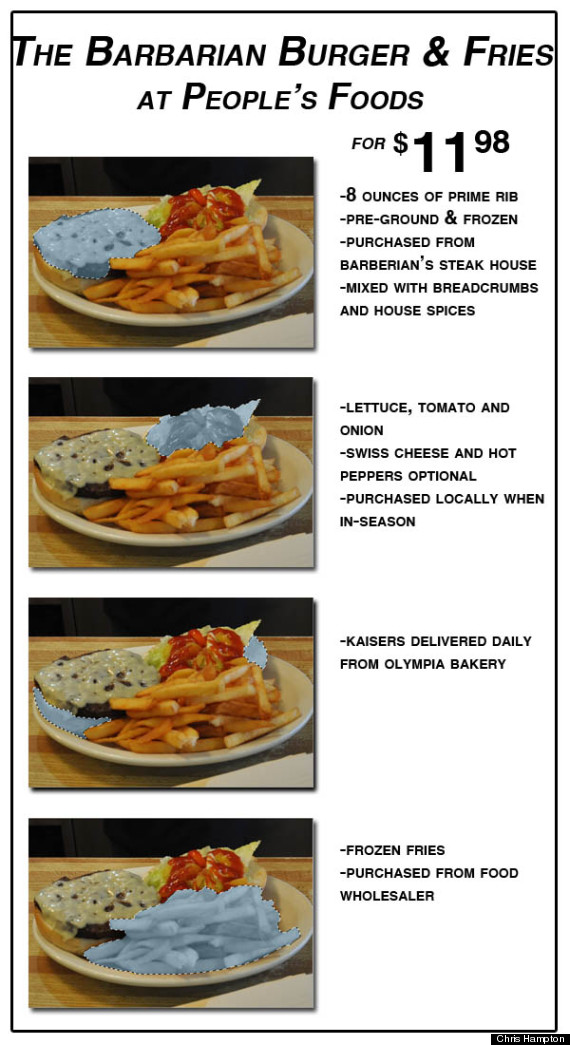 The Haute Hamburger
With the demise of M:brgr and their $100 double Kobe beef and foie gras headline-grabber, Bymark once again hawks the most expensive hamburger in the city.
As bankers and lawyers buzz in from Brookfield Place, Royal Bank Plaza and the Toronto-Dominion Centre, even a bar-seat needs a reservation. You're in Bay Street's collective lunchroom, with nary a running shoe in sight.
"For the price, you don't just get the burger, you get the atmosphere too," says bartender Danielle Neziol.
Executive chef Brooke McDougall says never mind the new burger-craze, the $35 Bymark burger has been a legend on Toronto's culinary scene since the restaurant opened almost 10 years ago. "It's probably the most written-about burger in the city," he says.
The Bymark burger starts with naturally raised (antibiotic- and hormone-free) grass-fed Prince Edward Island beef. While it was once made from 100 per cent USDA Prime beef, McDougall recently swapped for Canadian cattle.
The burgers are made from strip loin, cut from the short loin, an underused muscle that's quite tender and yields the most expensive cuts. Patties are formed at eight ounces apiece, fresh for lunchtime every day. Since the beef is broken down and ground in-house, Bymark will grill the burger however you like. Medium-rare is recommended — a risky proposition at your average burger joint.
The patty is drizzled with white truffle oil ($16.99 for 250 mL) and topped with grilled porcini mushrooms ($39 per pound when in-season), Brie de Meaux and variegated basil. The whole shebang finds its way between an Ace Bakery bun — delivered fresh daily — dressed with truffle aioli and red leaf lettuce.
The burger is served next to a golden-brown stack of sake-infused tempura-battered onion rings and a bowl of garlic aioli. The plate doesn't leave the kitchen until the rings are crisp to the chef's satisfaction.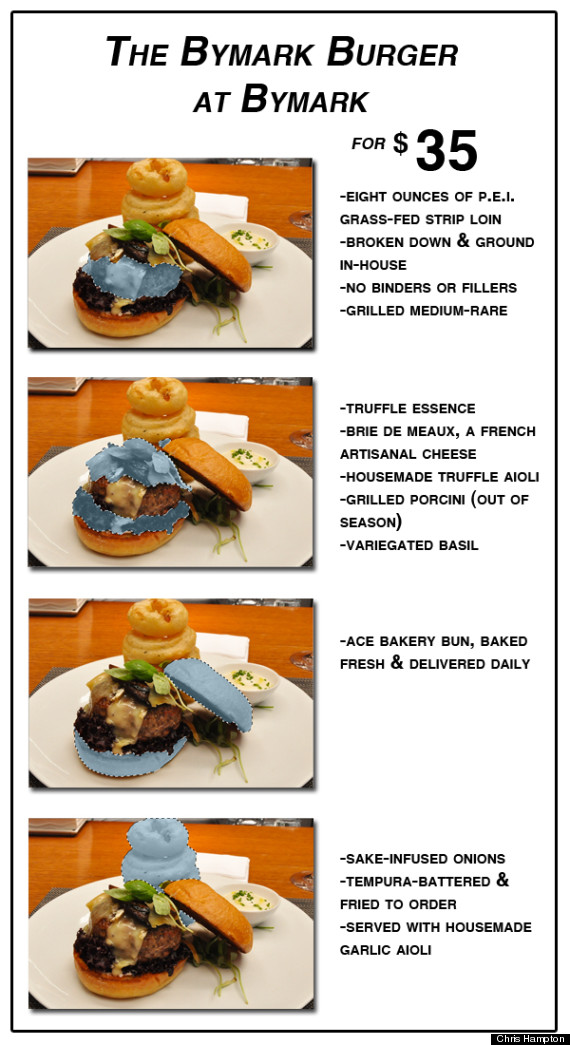 A Purveyor Of Gourmet Burgers
Although many downtown restaurants have shut their doors, and the headlines are asking whether we've reached our burger limit, one gourmet burger-slinger is building a small empire by selling locally-grown, naturally-raised beef.
In 2007, Saeed Mohamed quit his job as a software engineer to open Burgershoppe on Queen Street East in Riverside. He got the idea after a visit to New York's Burger Joint, a small, eclectic diner selling locally-sourced gourmet burgers.
Five years on, Mohamed has opened three locations—the original Burgershoppe, Burgershoppe Quality Meats Ossington and BQM Diner at Queen and Spadina.
One of BQM's best sellers, and Mohamed's favourite, is the $12 sirloin BQM burger (though any burger can be ordered from chuck or brisket too). The meat comes from Rowe Farms and Norpac, an abattoir that selects their cattle from natural farms in Norwich, Ontario. Natural beef means that the cows have been fed a vegetarian diet (no hormones or antibiotics) and have been allowed to graze freely.
The top butt — a large cut from the cow's hip — comes in whole and is broken down into sirloin steaks, a particularly lean cut of beef. Daily, the steaks are ground and pressed into six-ounce patties. Since BQM grinds their meat in-house, the burger can be ordered like a steak — the menu suggests medium-rare.
The charbroiled patty is served between a grill-marked sesame seed bun and topped with caramelized onions, horseradish and house-made garlic aioli.
BQM makes their fries from Ontario- and P.E.I.-grown Yukon Gold potatoes. Fries are cut and blanched daily, with the skins left on for flavour. They're fried to order — no heat lamps or microwaves. For $3, you get enough to share, but just in case, there's a $4 portion too.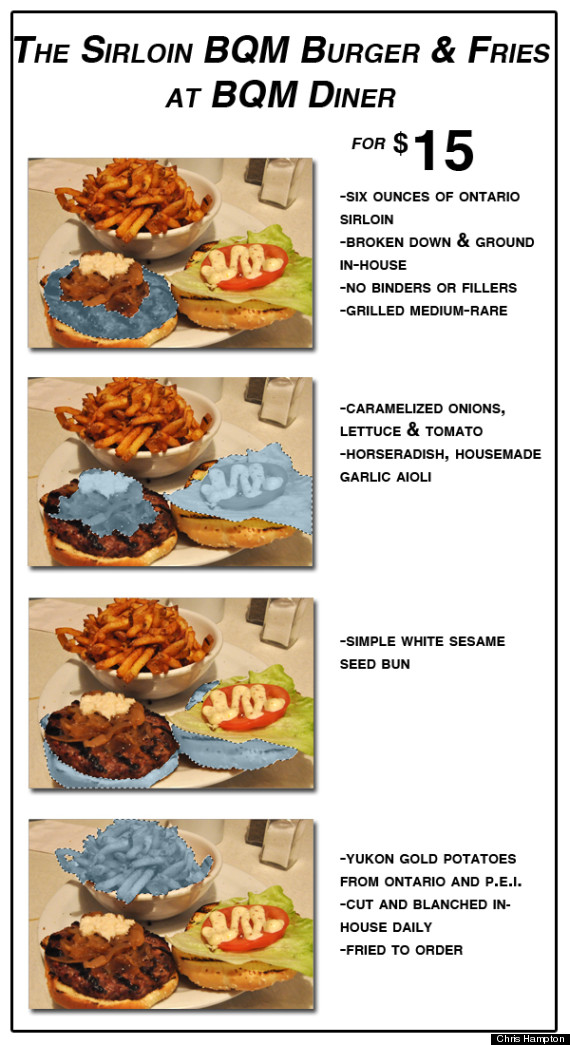 The Burger-Mobile
The big, blue food truck that's parked outside of City Hall has served hamburgers and fresh-cut fries on the cheap for 30 years.
Ivan Tchohlev has owned the Mr. Tasty Fries truck for 18 of those 30 years. Once the owner of a hotdog cart not 20 steps away, Tchohlev traded up for a bigger kitchen and a broader menu.
While food trucks are in vogue right now, Tchohlev is quick to point out that Mr. Tasty Fries was one of the first in the city. He says the mobile kitchen business is like owning a restaurant and a trucking company — he's subject to health inspections, and safety checks on the truck; he needs a food vendor's permit, a propane licence, and auto insurance.
For $5.50, Mr. Tasty Fries serves up a four-ounce burger, topped with your choice of lettuce, tomato, onion and fried mushroom with a styrofoam container full of fresh-cut fries. The produce and the buns are delivered daily. The patties come frozen and are grilled straight out of the freezer. Tchohlev says that making homemade burgers in the truck would be difficult — and more expensive. "People like the burgers, but they also like the price."
Working in the kitchen of Mr. Tasty Fries isn't for the claustrophobic. Tchohlev and his cook are forced into an assembly line; one tends the fryers, and the other, the grill. They couldn't squeeze by each other if they wanted to.
But the real magic happens in the driver's cabin. Where you'd normally find the passenger seat, a french fry press is fixed to the wall. Fries are cut hourly, and at his busiest, Tchohlev goes through nearly 500 pounds of Yukon Golds a week. The fries are blanched and then fried immediately. They sell so quickly that he doesn't need a heat lamp.