Mattel

In what's being called the first "drag queen" Barbie, Mattel is releasing "The Blonds Blond Diamond Barbie Doll" created in collaboration with New York-based fashion designer/cross-dresser Phillipe Blond.
Mattel commissioned the work to Phillipe and David Blond of the label The Blonds (they have styled the likes of Katy Perry and Jennifer Lopez), and it will be released in time for the Christmas season at a price of $125.
Now even though Mattel isn't explicitly marketing it as a drag queen doll, it does bear a striking resemblance to Phillipe Blond.
"One of the great things about Barbie is that she continues to push the envelope," Cathy Cline, vice president of marketing for Mattel's girls' brands tells the New York Times of this latest Barbie release. "Barbie doesn't worry about what other people think."
According to its official description at the Barbie Collector website, the new Barbie is a "stunning silvery mini corset dress -- designed by The Blonds themselves -- featuring countless sculpted faux gems and a full length faux fox fur" and is accessorized with "silvery jewelry suite and glitter pumps."
Mattel must be anticipating this Drag Queen Barbie will be a hit as they are placing a limit of 5 dolls per order.
No word on what Ken thinks of all this.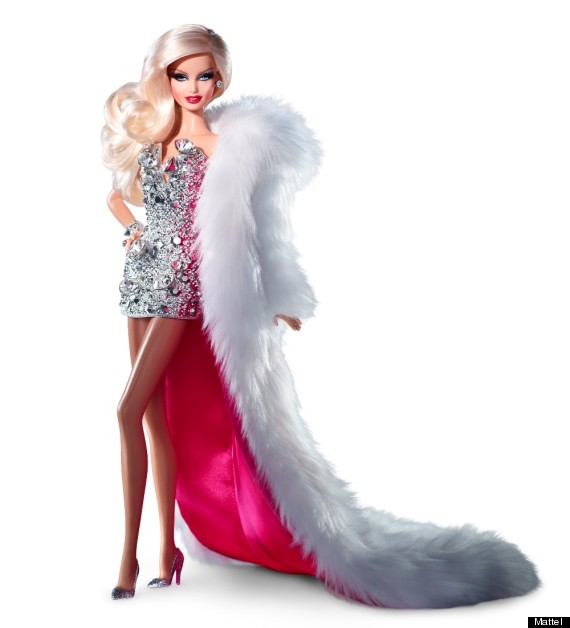 Click here to get the new issue of 2 For Couples!
ALSO: Check out photographer Dina Goldstein's 'In The Dollhouse' photo series of Barbie and Ken:
Darker Side Of Barbie And Ken's Marriage, By Dina Goldstein