CP
Jack Layton's romance with fellow politician Olivia Chow has been well documented in the press. But who was Layton's first wife, Sally Halford, the mother of his two children?
Layton and Halford married in 1969. They had known each other since childhood in Hudson, Quebec and were high-school sweethearts. Halford had been a cheerleader. Layton married her when he was just 19.
Most biographies now skip ahead to 1983, when the couple divorces 14 years after marrying.
In the interim period, they had two children together. Mike Layton is now a Toronto city councillor and daughter Sarah works at the Stephen Lewis Foundation.
Little else is known about Layton's media-shy first wife.
After the couple divorced, Halford remarried and took the last name Roy. She went on to become vice-president of human resources at George Brown College in Toronto, according to Maclean's. She has since retired.
Halford wasn't interested in the political life Layton was leading, according to Toronto Life. Whether that helped contribute to their break-up remains a mystery.
That doesn't mean relations soured between Layton and his ex-wife.
Chow, who married Layton in 1988, has said she is close to his former partner. The couple shared joint custody and on Christmas Eves Layton and Chow would often sleep over at Sally's home so that the children could celebrate with both families.
While Roy has stayed mostly out of the media spotlight over the years, she has emerged on a few occasions.
When her son Mike announced he was running for Toronto City Council, she appeared with him.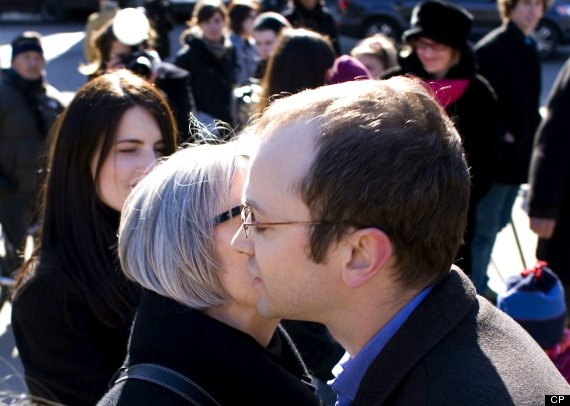 In a piece on Mike Layton's candidacy, the Toronto Sun wrote about how Roy would pull out a clipping of a story written by Christie Blatchford about Mike's response to his father's defeat in the Toronto mayoral race of 1991.
"She is going to bawl her eyes out this year," Layton told the Sun at the time of his successful bid for council.
Blatchford, whose column Roy seemed to treasure, would go on to famously criticize the honours given to Layton after his death and his "vainglorious" final letter.
Roy was a part of those ceremonies in honour of Layton, albeit on the sidelines. She appeared at the visitation with Layton's casket on Parliament Hill and can be seen looking sombre in photos from that day.
In a letter to the Hudson Village from 2004, Layton said Roy is spending time consulting and travelling after retirement.
In the message, Layton also mentions the sadness he still feels about the death of his own father. "I'm sure he's enjoying the election campaign from his new vantage point in the heavens," Layton wrote.
Perhaps they're watching together now.
Also on HuffPost
11 Surprising Facts About Jack Layton