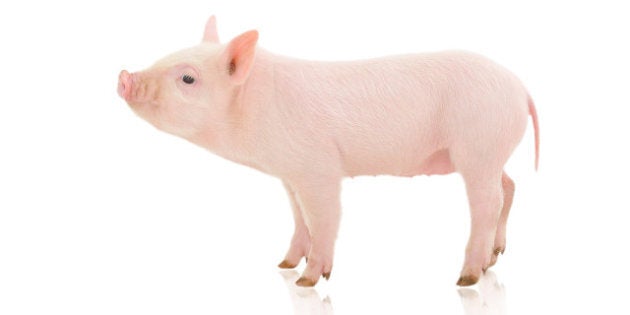 Health officials are warning the public to keep a distance from pigs, after reports that more than 200 people in the U.S. contracted a relatively new strain of swine flu following contact with pigs at fairgrounds and petting zoos.
"Many Canadian families visit agricultural fairs taking place at this time of year and may be exposed to this flu virus," according to a public health notice issued by Health Canada earlier this week.
"The H3N2v virus doesn't spread easily from swine to people—and even less easily from person to person. In most cases, the virus causes only mild illness in people," said the notice.
Still, Health Canada recommends that pregnant women, children under five, and anyone at risk of serious complications from the flu avoid pigs altogether.
Not yet detected in Canada
The H3N2 strain was first detected in humans last year, according to Dr. Danuta Skowronski of the B.C. Centre for Disease Control.
"Even though we haven't seen this H3N2 virus in Canada — we haven't detected it yet — it's likely just a matter of time," she said.
The centre is tracking the virus to see if it has the potential to become the next pandemic, but Skowronski says a previous swine flu outbreak has provided some immunity for most people.
In 2009 the H1N1 virus also originated from swine, and was so novel that most people had no built-in immunity like they do now.
"The population is not completely naive, they've seen this before. There is some protection that will dampen the chances of spread of this virus and will diminish the chance of a pandemic," Skowronski said.
No contact at PNE pig races
In Vancouver the Pacific National Exhibition does allow children to get close to other animals, like newly hatched chicks, but a petting zoo at the fair was ended following an E.coli outbreak in 2009.
This year the fair is featuring pig races, but the public is being kept at a distance, according to spokeswoman Laura Ballance
"There's no direct guest-to-pig contact as part of that show... So we feel confident that is a show that is going to provide very, very low risk to the general public," said Ballance.