Paws For The Cause is a charity that wants to help save dogs lives -- plain and simple. They throw an annual gala which raises money for a charity of their choice and subsidizes a scholarship for a student studying at the University Of Guelph veterinary school.
Although Serra never had a dog growing up, the animal lover and current owner of a chihuahua makes time -- in what we can only assume is a hectic schedule -- to raise money for something she's passionate about. The Huffington Post Canada caught up with Serra to learn a little more about Paws For The Cause and her goals for this year's big charity event (which takes place on October 11 in Toronto).
I have a love for animals -- dogs in particular -- so the whole idea [of Paws For The Cause] was born from a personal experience I had with my chihuahua, Chloe. When she was very young, she was not under my care and she got hit by a car. In order to save her life, I had to pay $10,000 for a spinal surgery -- it really came down to pay $10,000 or you lose my baby. [I paid the bill.] Once she got out, she started rehab and I thought, for people who couldn't afford the bill, [this would have been] a horrific experience. From there, Paws For The Cause was born. It's for people who are in those situations who can't afford to pay [for an important surgery]; we want to be able to pay for some of that surgery for them.
How do you select a beneficiary of the money you raise?
We're in our third year now, so the first two years it was really about getting our footing and trying to create the base of who we are. For the first year, I chose the Ontario SPCA because it seemed like the obvious choice. Last year, we chose the pet trust fund at the Ontario Veterinary college.
Really, all along, I wanted to find a vet hospital to partner with, to really create this vision around being able to help people who are in a situation where they can't afford a pet's surgery. It wasn't until this year that I found Central Toronto Referal Veterinary Clinic -- they want to do the exact same things [as we do]. We've also created the $5,000 Chloe Award at The University Of Guelph [to help veterinary students].
What's one thing you wish people knew about your charity?
I wish people knew we're a group of hard-working, thirty-something Torontonians who live very busy lives on their own, and who take time out of their day to raise money to save dog's lives. I feel, sometimes, when charities get so big, or parties get so big, it becomes all about the party -- and that's great because we want people to come [to our events]... But my only goal is to save dogs. The front of [Paws For The Cause] is the flashy party -- because that's the way we can raise money -- but... on the back-end, we're a Canadian-born charity trying to make the world a better place. I know that sounds cheesey, but that's really what it's all about.
What's different about this year's gala compared to the past two?
[We've, in the past, held a puppy fashion show], but, this year, I wanted to give our Paws For The Cause-dedicated party goers something new.
[This year], we were really inspired by Theron Humphrey who runs the Instagram blog, Maddie On Things. [The Paws For The Cause team] has been following him on Instagram; at every meeting, we were talking about him. On a whim I emailed him [asking] if he'd be interested in doing something with us -- and he got back to me. We started to build the event around his work. So this year is all about art and photography.
What role will Humphrey play at the event?
Our event will be the first Canadian photo exhibit of his Instagram work -- he's never done it before. He's been featured in People, on 'Ellen' and 'The Today Show' -- he's huge in the U.S. So this will be his first Canadian debut. We will unveil his collection, which will be [auctioned off]. In addition, we're having a dog show. Rather than it being about fashion, we're looking for artistic and eccentric-looking dogs to take part [in a pseudo dog show -- where the pups come up and show themselves off]. The last dog of the show will be Maddie; after, Humphrey will unveil his photo exhibit.
This is one of your three jobs. How do you find the time to give back to the community?
You have to make time. I recently did another interview where I was asked for my number one piece of advice on doing charitable work, and there are a million reasons you can make to not do it. Everybody has a day job and family obligations, so it's easy to brush it off. But, really, you have to make time. You need to make [charity] fit in your day, even if that means going out one less night with friends or if it means working on your weekend. If it's something you're passionate about, you find time. With Paws, it's super trying at times -- especially as we lead up to events -- but it's all worth it.
Here are photos from last year's Paws For The Cause gala: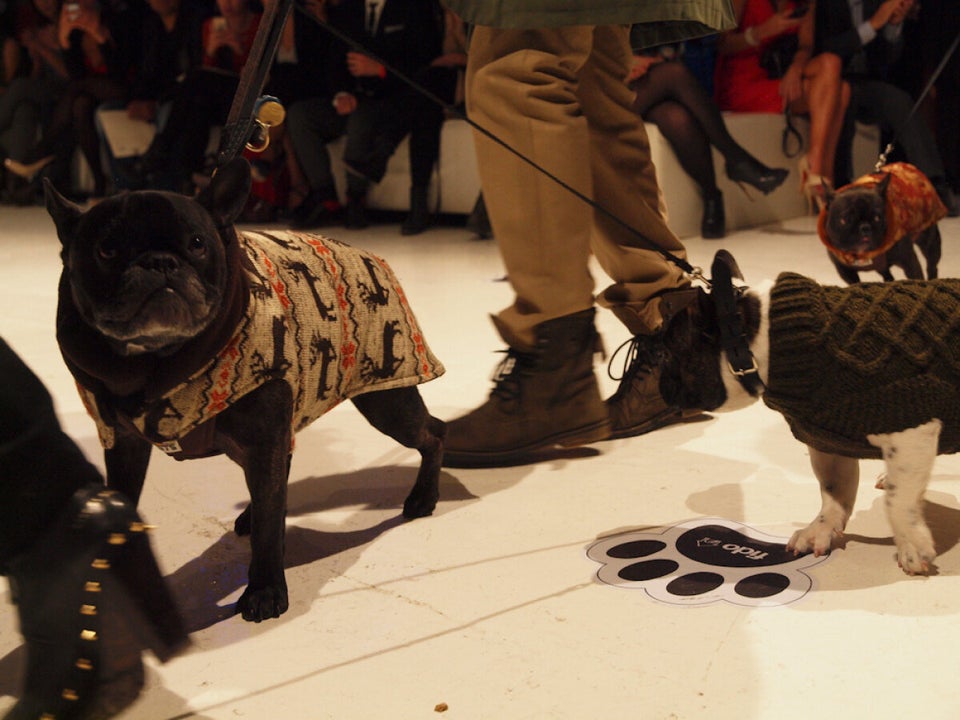 Paws For The Cause Gala 2011