It's got four bedrooms, one-and-a-half baths, more than 10 acres of oak groves and beachfront -- and about 2,000 bullet holes.
The Orlando, Florida-area home of Ma Barker, the famed (and disputed) head of the 1930s Barker-Karpis gang, is headed for auction. Suggested starting bid: $1 million.
The wood-frame house, located in the town of Ocklawaha, was the site of a January 16, 1935, shootout between the FBI, Kate "Ma" Barker and her son, Fred. Both Ma and her son died in the shootout. Ma was found with a tommy gun in her arms.
Remarkably, the house has been left in almost the exact shape it was in when the Barkers confronted the FBI 77 years ago. Much of the furniture remains in place -- as do many of the bullet holes.
Evidently no one has lived on the property for decades, though members of the Bradford family -- who have owned the home since it was built in 1930 and who rented the house to the Barkers -- have used the property as a summer getaway for generations,and spent time fruitlessly searching for the rumoured "booty" Ma Barker had stashed in the house.
With the older generation of Bradfords passing on, the family decided it was time to sell, Ocala.com reported.
With about 1.5 acres of beachfront, the sellers believe it would be an ideal property redevelop into a bed and breakfast.
Stirling Sotheby's International, which is auctioning the house, is taking bids until October 5.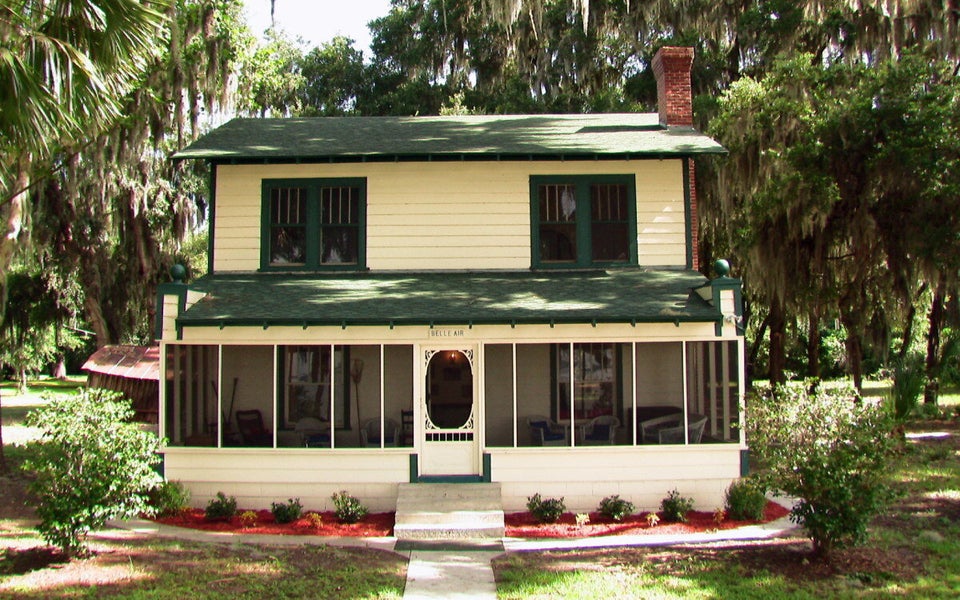 Ma Barker's Florida Hide-Out For Sale