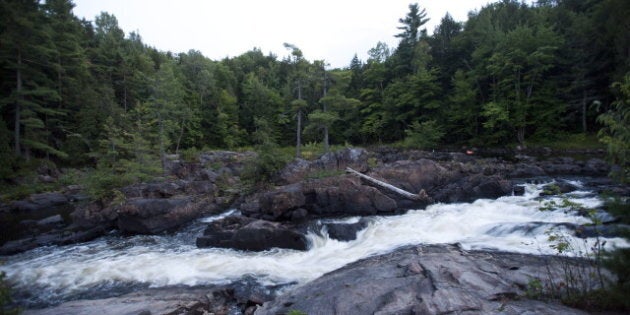 RAWDON, Que. - A recently married bride wanted to be photographed one more time in her wedding dress.
The photo shoot on Friday wound up killing her.
A Montreal-area woman, married just under three months ago, dipped her toes into a river northeast of the city near the town of Rawdon.
The water wasn't particularly deep or turbulent. But it began to seep into the dress, making it heavy.
Eventually, the 30-year-old woman slipped from the rocks and was carried away by the Ouareau River.
"The photographer put down his equipment and tried to save her. He grabbed her with his hands," said provincial police spokesman, Sgt. Ronald McInnis. "(One witness) tried to help, but they couldn't save her.
"The dress was too heavy."
Two police officers arrived on the scene, took off their uniforms and jumped into the water to find her, McInnis said.
He said the woman had been carried toward a more stagnant pool of water and disappeared there.
Eventually an avid scuba diver, who had heard the news about the accident, arrived with his gear.
He quickly found the woman's body.
"She had sunk to the bottom," McInnis said.
The Laval, Que., woman had been married June 9.
Police initially reported that the woman was on the verge of being married, and that the accident had occurred nearby at the better-known and notoriously hazardous Dorwin Falls.
In fact, police explained later, the scene of the tragedy was not especially dangerous.
"There's not a very strong current there, and not much water," McInnis said.
"Her dress became full of water. It became too heavy."
As for why the woman was being photographed in the river, in her bridal dress, months after the wedding, McInnis referred to a common practice known as "trash the dress" photo shoots.
"But I don't know," he said. "The investigation will tell us."
Trash the dress is a form of wedding photography that involves taking photos of people in elegant clothing with an environment in which it is out of place.