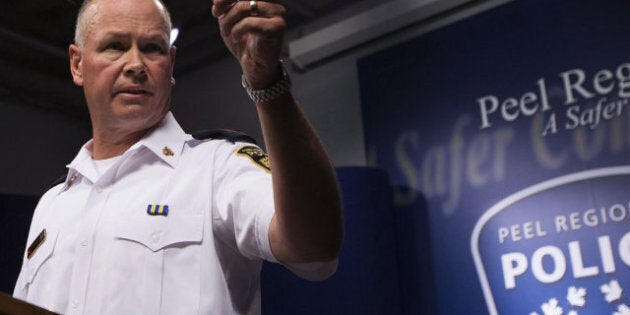 The man had been involved in a relationship with Liu. Police say he was involved with her for four years and recently broke up. He arrived in Canada in 2002, police said at a Monday afternoon press conference. He was arrested on Sunday.
Peel Police are charging Jiang with second-degree murder and say domestic violence was a factor. He was not known to police.
The full story from the Canadian Press:
BRAMPTON, Ont. - An ex-boyfriend of a woman whose body parts were found scattered in two Toronto-area parks has been charged in her death.
Peel Regional Police Insp. George Koekkoek told a news conference the 40-year-old man is charged with second-degree murder in what he described as a "domestic-related homicide."
Chun Qi Jiang was arrested in Toronto on Sunday and remanded into custody when he appeared in court today.
Jiang, a Canadian citizen of Chinese descent, was not previously known to police, Koekkoek said.
The inspector said Jiang had a four-year relationship with Guang Hua Liu, 41, and the couple was recently estranged. He did not know exactly when the relationship ended.
"We're still trying to flesh out those details so I'm not at liberty to go any further on that part," he said.
"They were boyfriend and girlfriend, is my information. They were dating."
Liu was reported missing on Aug. 11, one day after her friends dropped her off in front of a now-defunct spa she used to own called Forget Me Not Health Centre in east Toronto.
On Aug. 15, Liu's right foot was found in the Credit River in Mississauga, Ont., about 45 kilometres west of her home.
Liu's head and hands were later discovered in the river in the Hewick Meadows Park area. Two calves, a thigh and an arm were found in West Highland Creek, just blocks from where she lived.
Forensic tests determined all the remains belonged to Liu, but police still do not know how — or where — she died.
"We've obviously got a number of crime scenes with where the body was located, but where the actual murder took place, we're still working on that," Koekkoek said.
He couldn't say whether police expect to lay additional charges or make more arrests in the case.
"The investigation is still open and we're moving forward with that, and at this stage, we have no information to that," he said.