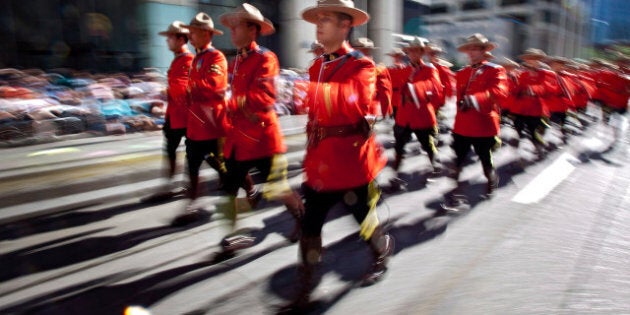 A man who complained to the RCMP that one of its officers posted bondage photos online says that after he reported the Mountie, he and his wife were terrorized by police during a raid on their home.
The man, whose name is not being made public, told CBC News that the raid occurred after he reported to the RCMP that Cpl. Jim Brown, of Coquitlam, B.C., had posted several bondage-type photos of himself with women on a website with a purported 1.7 million members.
The RCMP is investigating Brown's connection to the photos.
But the man said seven officers — bearing a warrant that said the search was being carried out as part of an investigation into alleged defamatory libel — raided his home and seized several computers and cell phones.
The man said the officers told his wife that he was likely cheating on her because he had been lurking on the website where he found the photos of Brown.
"After assisting the RCMP regarding this matter we have been targeted by those in Organized Crime Section," the man wrote in a letter to CBC News.
Raid followed blog posting
The raid on the whistleblower's home came a few days after a blog was posted online by a group called the Re-Sergeance Alliance, which claims to represent 500 Mounties. The blog post alleged corruption by RCMP management and accused the force of trying to cover up Brown's scandalous photos.
The blog was quickly pulled down and all RCMP officers were advised of a new policy restricting members writing on social media.
Micheal Vonn, a lawyer with B.C. Civil Liberties Association, calls the RCMP actions an inappropriate use of police resources, because defamation belongs in civil court.
Vonn also said she believes the defamatory libel section of the Criminal Code is unconstitutional.
"When we look at these arcane, highly suspect provisions of the Code and we see the police going after their own critics, we have reason to be very concerned indeed," said Vonn.
The RCMP has told CBC News there was no "raid" on the man's home but a legal search that had judicial authorization and that its officers were respectful.