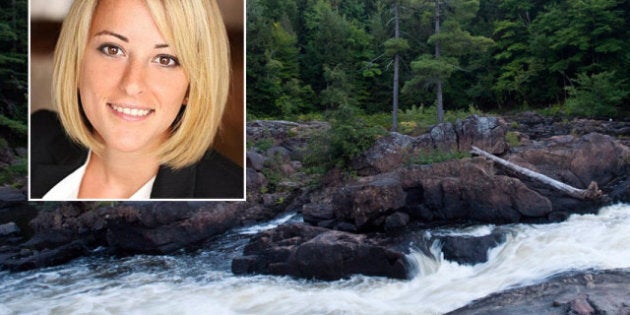 Some photographers are on edge after a photo shoot turned tragic near Montreal last week.
A newlywed woman from Quebec drowned Friday during her session in a river in Rawdon, about 75 kilometres north of Montreal.
Maria Pantazopoulos, 30, of Laval was standing at the edge of the Ouareau River when her gown became heavy as it soaked up the water and the current pulled her away.
The photographer and his assistant tried to pull her out but they could not reach the bride.
The woman's family has released a statement about her death. In it, they thanked those who tried to save Pantazopoulos.
They also asked the municipal council of Rawdon to put stronger security measures in place to avoid future tragedies.
Photographers said this tragedy is an important reminder to think safety while trying to capture the moment.
'Just be cautious'
The photo shoot was possibly done in a "trash the dress" theme, a trend in photography that puts well-dressed people in environments where they seem slightly out of place.
Sometimes those shoots can happen in places of danger, but brides might not consider the threats.
"I'm sure brides will keep into account that accidents do happen," said Ottawa photographer Philippa Maitland, who believes brides will continue to do creative photo shoots despite the death. "Everybody should just be cautious, even when they're lost in the moment."
Jean Chartrand said he remembers one photo shoot where a couple wanted to jump into a quarry at the groom's uncle's farm.
The couple did not think about the dangers, he said, but friends on hand were ready to jump to action in case of emergency.
Liability concerns
Luckily, that photo shoot went off without a hitch. But Chartrand and other photographers are still in shock after last week's tragic incident.
Chartrand worries for the photographer taking the photos of the Quebec woman.
"Would this photographer get sued? Will he get charged?" he wondered aloud. "Even though it's an accident, they're always looking for culpability along the line."
Chartrand said he might consult his lawyer about having brides sign waivers for "trash the dress" photo shoots.