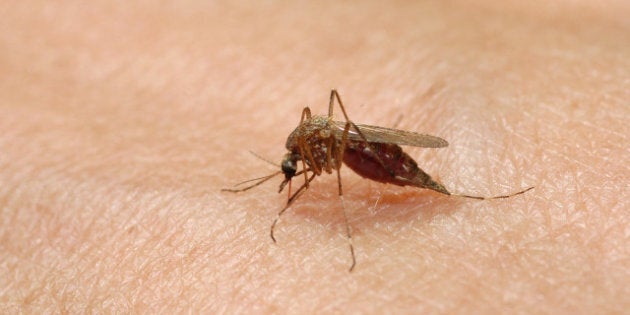 TORONTO - West Nile virus activity is surging in southern Ontario and the province may be on track to equal its worst year ever in terms of total cases, an official with Public Health Ontario said Wednesday.
"It's near impossible to predict what the future holds for West Nile virus in the next number of weeks," said Dr. Colin Lee, acting medical director of communicable diseases at Public Health Ontario.
"But what it would be fair to say is that there will be mosquitoes still infected with the West Nile virus likely till at least mid-September."
It's also a very bad year for West Nile infections in the United States.
On Wednesday the Centers for Disease Control reported that 1,590 cases have been recorded so far in the U.S., and 66 people have died. That's the highest number of cases by late August that the U.S. has seen since West Nile virus emerged in North America in 1999.
Public Health Ontario reported that as of Tuesday, there have been 82 people who have been confirmed or are deemed probable West Nile cases in the province this year.
That's higher than any comparable period in Ontario since 2002, the province's worst West Nile year on record. In 2002, Ontario recorded 186 West Nile virus cases by the end of August. By the time the 2002 season was over, 394 cases were recorded.
With several weeks of mosquito activity likely ahead and a long incubation period for the disease, this year's case count could approach that territory. "I think that's certainly possible, that we could reach what we did in 2002," Lee said.
The incubation period — the time from infection to manifestation of symptoms — can be as long as 14 days with West Nile infection.
That means people being infected now may not come to light for several weeks. It could easily take that amount of time for people who are going to become severely ill to develop symptoms, seek medical care, get tested and then receive a test result.
Four other provinces have reported cases so far this year: Quebec, 11; Manitoba, nine; Alberta, four and Saskatchewan, one.
The epicentre of Ontario's outbreak is Toronto, where there have already been 44 confirmed cases and 18 people have been hospitalized with the disease, Toronto Public Health said Wednesday.
So far this year there have been no fatal cases in Canada.
The confirmed and probable cases are only a fraction of the true number of infections, Lee noted. With West Nile virus, about 80 per cent of people who are infected don't develop symptoms.
The remaining 20 per cent will become ill, but most will have flu-like complaints — fever, headache, body aches — which can last for a few days or even some weeks. Lee said most of those people don't seek medical care; the U.S. CDC estimates between two and three per cent of people who develop West Nile fever end up being diagnosed.
But about one out of every 150 people infected with the virus go on to develop severe disease, which requires medical care. Their symptoms can include high fever, muscle weakness, numbness, even paralysis.
A portion of the people who develop West Nile virus neurological syndrome do not make a full recovery.
Ontario officials were expecting this year could be a bad one for West Nile, Lee said.
"Given the early start to summer this year and the number of early hot days and the number of mosquito pools that were positive (for virus) at the beginning of summer, we somewhat expected that we would have a larger-than-usual amount of people infected with West Nile," he said.
But an expert from the CDC said in a teleconference Wednesday that there are so many factors that influence West Nile activity that it's impossible to know whether this year's hot summer is driving the outbreak.
Dr. Lyle Petersen, director of the CDC's division of vector-borne infectious diseases, said in some previous years heat waves have been associated with a lot of West Nile cases. But other years, they have not.
"So the short answer ... is we don't know," Petersen said. "But the heat wave this year could have been an important contributing factor."
Most of the U.S. activity is concentrated in six states. Texas, South Dakota, Mississippi, Oklahoma, Louisiana and Michigan account for 70 per cent of the U.S. cases. Texas alone claims 45 per cent of the U.S. total.
Note to readers: This is a corrected story. A previous version mistakenly listed a 2002 figure as being for the year when it was for the period to the end of August.