Don't you love when a star visits your home turf wearing a local designer? We do -- it hints that the star (or her stylist) is paying attention to and cares about supporting local names.
So if Canadians didn't love Emma Watson enough for her Harry Potter pedigree or her transition from child star to young ingenue via mod pixie cut, they can feel warm and fuzzy about the fact she landed on the Toronto Film Festival red carpet wearing a creation by a Canadian-born designer.
Watson, 22, attended the premiere of her new film, 'The Perks Of Being A Wallflower,' in a boldly patterned dress from Erdem's pre-spring 2013 collection. She had all kinds of current trends happening, with lace and floral patterns in her ensemble, and a braided updo (no more pixie cut!). The actress paired the look with lightweight makeup from Lancôme, including one of our favourite red lipsticks Midnight Rose.
Royal watchers may remember that the Duchess formerly known as Kate Middleton started her first royal visit to Canada in a blue and white lace dress that won raves from Canadians and fashionistas alike. Erdem Moralioglu is a Montreal-born designer who studied fashion in Toronto. His brand is based in London, and Watson has been spotted in his designs before.
We're digging this fresh look on the actress formerly known as Hermione -- check it out below: what do you think?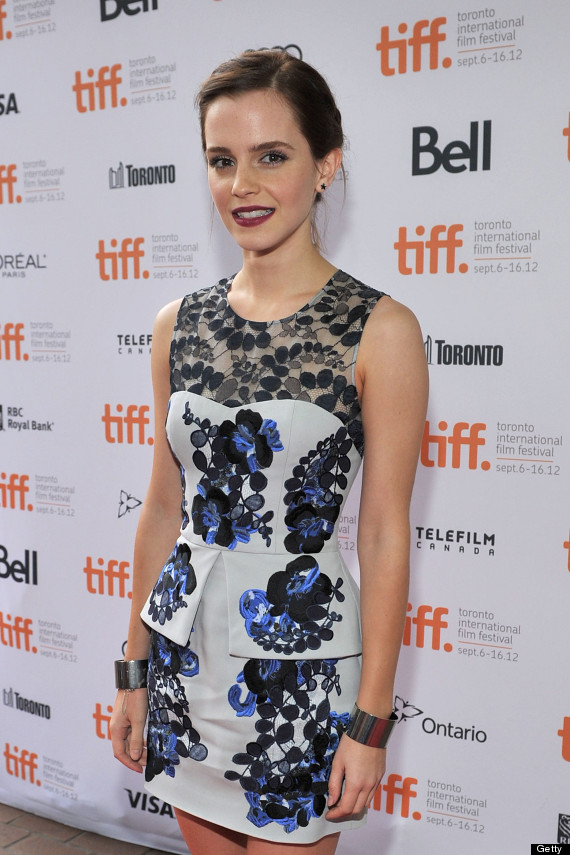 Check out all the stars' style at TIFF!
TIFF 2012: Stars Show Off Their Style