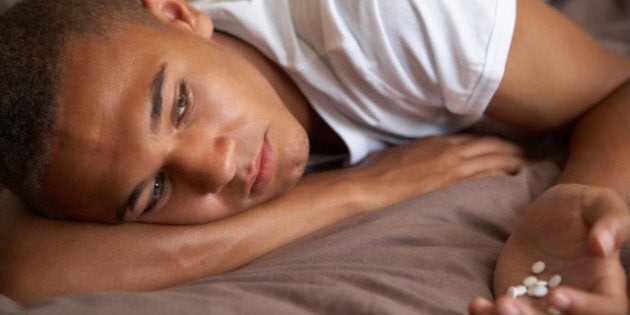 HALIFAX - A new suicide risk assessment tool used by health professionals in some Nova Scotia hospitals is a "valuable step" towards preventing suicide and should be implemented on a wider scale, a psychiatry professor says.
A task force led by Joseph Sadek of Dalhousie University recently developed a one-page form that arms mental health providers in the Capital District Health Authority and IWK Health Centre with a tool to identify a patient's level of suicide risk.
Under a policy implemented in early July, the form must be filled out by a mental health care provider for any patient who comes to a health centre with mental health concerns, said Sadek.
"The policy was basically aimed around a risk assessment that needs to be done, and when it's done and the patient is found to be at risk of suicide, then (determining) what can we do about it," Sadek said in an interview.
Sadek said the form is breaking new ground in suicide prevention as the 10th anniversary of World Suicide Prevention Day is being marked on Monday.
He said the Halifax-based task force had looked at similar tools in Europe and across North America.
"But there hasn't been a combination of the most important steps that need to be taken," Sadek said.
The form consists of a communication, management and monitoring plan, which can be implemented depending on the patient's level of risk.
If a patient is at a moderate or high risk of suicide, other physicians that person may be referred to must be notified of the risk.
'"There is some kind of direct warning that goes on to the next service... and we think this is very important," said Sadek.
The form may also call for a round-the-clock monitoring of the patient or a check-up visit in 24 hours.
But Sadek said it's hard to say if the tool has prevented suicide since the policy was implemented a few months ago.
"It's such a short time to do any...meaningful statistical analysis," he said. "In six months, we are going to collect some data and will have more (insight) into what is happening."
However, Sadek added that health care workers have found the tool very helpful and say it has increased their confidence in arriving at a conclusion about a patient's suicide risk.
Other health authorities in the province have shown interest in the form and Sadek hopes it will soon be implemented on a wider scale.
In Nova Scotia, psychiatrists who study suicide are placing emphasis on the importance of the health care provider's role in suicide prevention.
Earlier this year, Dalhousie psychiatry professors Stan Kutcher and Sonia Chehil wrote a well-received academic manual that educates health professionals on suicide risk assessment. Kutcher has also developed an online training program based on the manual for health professionals province-wide.
Sadek said teaching health care workers how to recognize people at risk of suicide is instrumental in preventing a death.
"Suicide is an extremely important topic and it's an issue that's devastating for families, physicians, for everyone. We need to take that issue very seriously," said Sadek.
"There should be a minimum basic education around suicide for everyone who is in the health care system."
According to the Canadian Association for Suicide Prevention, 86 people died by suicide in Nova Scotia in 2005.
Nearly 3,900 people committed suicide in Canada in 2009, Statistics Canada's website said.