LETHBRIDGE, Alta. - High winds fuelled two massives grass fires in southern Alberta on Monday, prompting precautionary evacuations in at least three communities.
Residents of Coalhurst and Milk River — with populations of 2,200 and 800 respectively — were ordered out of their homes, along with rural residents in the region and residents on the Blood reserve.
A mobile home park was also cleared out in the much larger city of Lethbridge, which declared a state of emergency as thick black smoke filled the sky.
By late evening, however, the winds calmed down and the situation began to improve with the help of water bombers which knocked back the flames.
Officials in Milk River decided to play it safe and told residents to stay away overnight.
But residents of Coalhurst were told they could go home, though rural residents of the County of Lethbridge remained under an evacuation order.
"We're not saying the fire is under control at the moment, but it's not a dire situation," said Jody Meli of the City of Lethbridge.
"The wind has died down here so we're hoping things are going to be fine. But we're staying on top of things."
She said the Coalhurst fire had grown to 50 square kilometres in size.
"We aren't aware of any injuries at this point. We've heard some reports of (structural damage) but we have not got that confirmed either."
Lethbridge fire Chief Brian Cornforlth said crews will be working through the night and water bombers could be called back in Tuesday morning if necessary.
"That fire took a very narrow path up between Lethbridge and Coalhurst," he said. "Mother Nature worked in our favour on this with the high winds that kept the fire front narrow. The flanks were easy to manage and crews have done a phenomenol job."
Blood Tribe Chief Charles Weaselhead said the blaze was sparked shortly after 1 p.m.
"There's speculation that the power line may have dropped down on the ground and started that, but it's speculation right now," he said.
Evacuees from Coalhurst and Lethbridge were directed to congregate at three points — a gymnasium in Lethbridge, the Enmax building in Lethbridge and the community centre in Picture Butte.
The people of Milk River were told to go to the nearby town of Raymond.
Barbara Edgecombe-Green, spokeswoman for the town of Coalhurst, said police went door-to-door telling people to get out immediately.
The town supplied a bus for people who had no transportation.
"For the moment the town is not affected, but we are in direct line of the fire, so to make sure everyone is safe, we are evacuating the town," Edgecombe-Green said Monday afternoon.
Residents who made it to the evacuation centre in Picture Butte said it was a nerve-wracking trip on a normally quiet highway now jammed with cars.
Once they got there, they were told it would be several hours before they would know if they could return home or would have to stay out for the night.
Dora Entz left town with her two sons and two daughters; her husband had been on his way home from Lethbridge and simply diverted to meet them in Picture Butte.
Entz said her son learned of the evacuation when he went to get gas.
"The police got out and said to him ... Coalhurst is now evacuated."
She said she heard the police issuing evacuation orders on a loudspeaker as they drove down the street in front of her house.
"I never expected that we would be evacuated," she said. "It was such a long wait until we got out of Coalhurst. Everybody was just rushing to get out. People wanted to come back and the police wouldn't let them, so they had to turn around. It was a hustle."
She said she left her home with little in the way of possessions.
"Just my dog," she said. "The kids wanted their dog and their cat. And the cat threw up in my van. Not used to driving."
Sheila Cook, a teacher who was volunteering at the evacuation centre, said about 100 people had shown up by early evening.
"We have Lethbridge health and medical services here, the Red Cross is here, we have Lethbridge regional police and victim's services and we have the RCMP."
She said volunteers from the community were bringing in food.
"All of the people are being fed and they are just having a communal time — they're just visiting with each other. If we do have to support them in a sleep over, Red Cross will be bringing out cots."
The Coalhurst blaze began earlier in the day on the Blood reserve and closed Highway 3, a major roadway in the region. The separate Milk River fire appeared to have originated on farmland.
"We have lots of smoke, we cannot see flames, but there is lots of smoke," Edgecombe-Green said. She estimated the fire to be about a kilometre away from the town.
Flames were being whipped by winds gusting up to more than 100 kilometres an hour and filled the skies of Lethbridge with thick black smoke. Environment Canada issued wind warnings for most of southern Alberta.
News of the fire spread quickly on social media.
"Nothing makes a day in southern Alberta feel more like home than soul-crushing wind and a home-threatening grass fire," tweeted Heather Hanson.
"Happens every time! I hope Coalhurst and W. Lethbridge get out of it without any loss of life or homes. I know what it feels like to be evacuated under those circumstances and not knowing if you'll have a home left when it's all over."
Jacqueline Ramage tweeted: "Wow!!! A fire on the Blood Reserve has jumped the river and Coalhurst has been evacuated!! There is a wind warning in effect for our region, and some of the west side has been evacuated, as well as the Bridgeview campground .... my friend Christina says that they are bringing in the water bombers!!!"
The University of Lethbridge issued a news release saying it was suspending all non-essential services and cancelling scheduled evening classes for Monday night, but said classes were scheduled to resume Tuesday.
Edgecombe-Green said all of the fire resources in the surrounding communities, including the fire department on the Blood Reserve, were working together to fight the blaze.
Much of the same area was hit by a grass fire that forced over 100 people from their homes near Lethbridge last November.
And in the spring of 2011, wildfires destroyed nearly one-third of the town of Slave Lake in northern Alberta.
It brought back some bad memories for M.A. Dulong, a woman who tweeted she had already been through that fire.
"Dear God, just moved to Lethbridge and there is a fire burning just outside of here in Coalhurst which is under evacuation warning," she tweeted. "You got to be kidding after the fire in Slave Lake where I moved from ... hope everyone is safe in Coalhurst."
Cook said people seemed to be coping pretty well.
"There is some stress that's visible, but they're finding each other and they're just visiting. They're trying to be very optimistic. There's no tears."
Entz was also trying to keep her spirits up.
"I'd like to be home tonight in my own house but hey, if I can't be, we have lots of friends that we can stay at their place," she said.
"I am worried, but what can we do at this point? We're just hoping they can get it under control."
Note to readers: This is a corrected story. A previous version had Edgecombe-Greene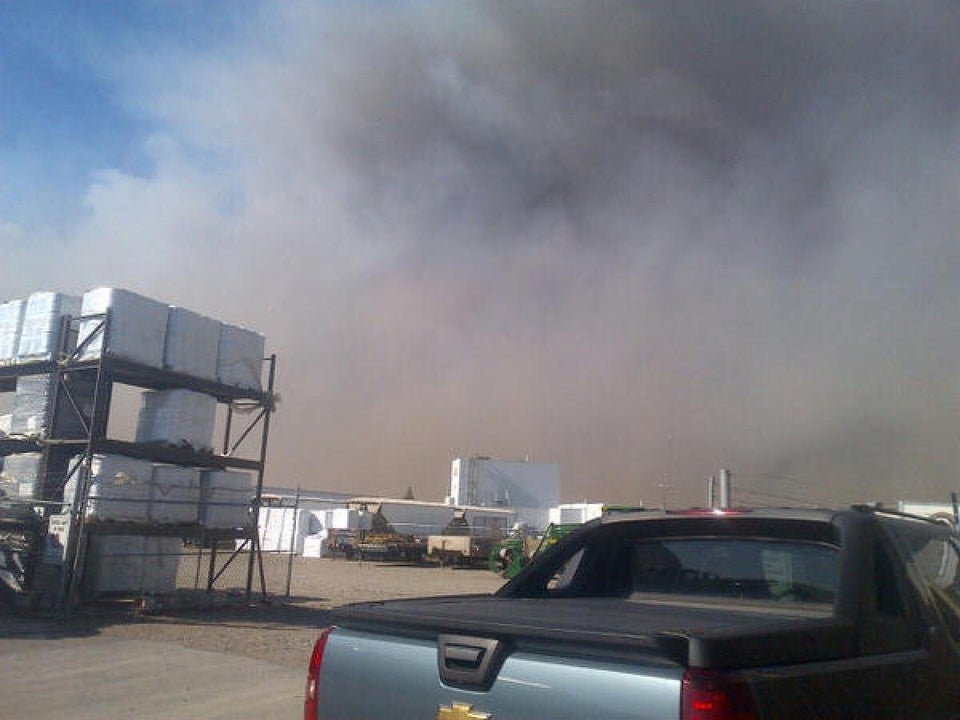 Lethbridge Fire, Sept. 10