Mat Dunlap
A Nova Scotia folk musician is being nickeled-and-dimed over a picture of a penny.
Dave Gunning of Halifax says the Royal Canadian Mint has demanded fees from his upcoming album because it features a picture of pennies on the cover.
No More Pennies, which Gunning describes as a tribute to the soon-to-be defunct copper-plated Canadian coin, is set to go on sale on Sept. 18, but Gunning says the album's future is in doubt after the mint demanded fees for anything past the first run of 2,000 copies.
The musician plans to pay the fees with pennies.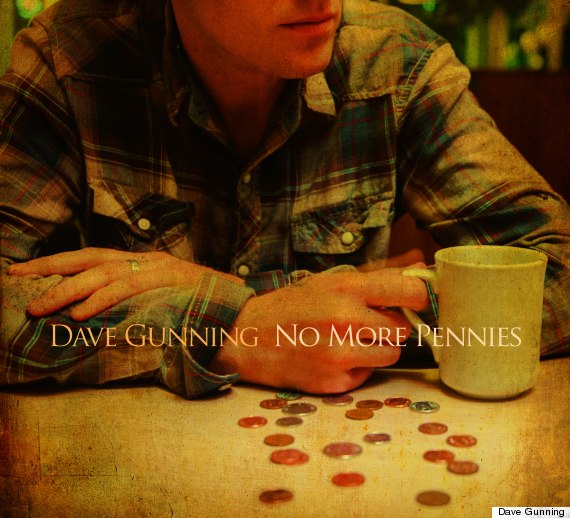 The cover of Dave Gunning's No More Pennies, set to go on sale September 18, 2012.
Gunning says it all began with an enthusiastic fan who happened to be a mint employee.
"I was approached by a fan that works for the Royal Canadian Mint. He thought that they might support the project and sell copies in their Ottawa gift shop," Gunning wrote on his blog. "He pitched his idea to co-workers and soon contacted me, feeling terrible as I was soon to be in breach of copyright by using the image of our Canadian penny."
PHOTOS: THINGS WE'LL MISS ABOUT THE PENNY
A mint employee "forwarded me an application and told me that my case would be discussed at a meeting," Gunning wrote. "She ensured me that the Mint didn't want me to incur any financial loss. She then phoned me to let me know that the Mint was going to make an exception allowing us to sell the initial run of units but that we would be required to pay a mechanical rights fee for every CD produced. The mechanical rate was quite high so I didn't know if I would be able to produce another run of units in the future. That's when we decided to do a 'Penny Drive' and collect $1,200 worth of pennies to cover the initial cost."
The mint evidently backed down -- a little -- when it got wind that Gunning was being interviewed about the matter by CBC Halifax, waiving the reproduction fee for the initial 2,000-copy run, but insisting on fees for any further runs. Gunning is now planning to send the $1,200 he would have paid to the mint to the IWK Children's Hospital in Halifax. But he is still asking fans to bring pennies to his shows in order to pay for any future album runs.
Mint spokesperson Alex Reeves told The Huffington Post Canada the mint would have little problem dealing with a payment in pennies.
"The mint has the means to recycle coinage," he said. "Twelve hundred dollars in pennies in a one-time case is not an issue for the mint."
Reeves said the mint holds the rights to the image of the penny, and always has. The agency's policy on collecting copyright fees makes an exception for charities, governmental agencies and educational purposes, but consistently charges fees for any for-profit use of the penny, he said.
If the fee is too onerous, Gunning "has the option to not use the penny in his artwork," Reeves said.
THINGS WE'LL MISS ABOUT THE PENNY