flickr: Daveography.ca
Back in August we took a walk down Calgary's Memory Lane. We remembered and reminisced about the old times, the old buildings, the old personalities. It was such a hit we wanted to replay those memories, but this time we turned to Edmonton.
Some obvious examples come to mind. For instance, who doesn't miss #99 himself, Wayne Gretzky? Or the Oilers' retro jerseys, for that matter?
We also learned that Edmontonians really like (and miss) their food establishments. The Motoraunt, Bullwinkle's, The Sidetrack Cafe and Ciro's restaurant all got a mention when we put the call out on Twitter.
And how about this beautiful scene? The High Level Bridge waterfall, cascading and all lit-up at night. So pretty.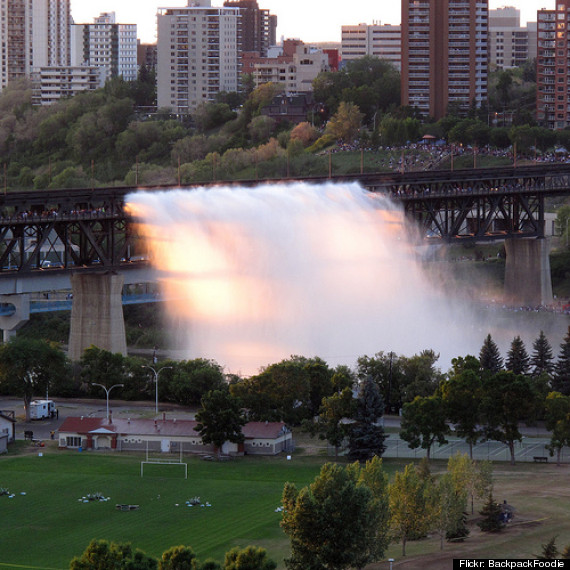 Also, let's not forget the "Rathole" - the tunnel/underpass constructed in 1927 as way under 104 Avenue which passed under a span of 22 railway tracks. The Rathole was subject to flooding and poor visibilty and it was because of this the city decided to close it and construct 109 Avenue at grade. The "Rathole," not surprisingly, only got one vote. But it was an enthusiastic vote.
@huffpostalberta The Rat Hole!

— Regan Shaw (@tristanzdaddy) September 9, 2012
Our call-to-action on our Facebook page garnered dozens of suggestions as well, including having an airport within city limits (#YXD), shopping at Woodward's, milkshakes at Zellers and the Popcorn Playhouse.
This, however, is not a new conversation. Visit Yelp's discussion and Connect2Edmonton.ca's discussion as well as check out more suggestions we received in our gallery below.
Please feel free tell us what about Old Edmonton has you yearning for the past. Share with us on Twitter using the #EdmontonRetro hastag or visit us on our Facebook page.