The biggest star of Calgary's first Nuit Blanche was also the one the burned the brightest.
A giant cloud composed of 6,000-plus lightbulbs was definitely the hit of the night. Aptly named "CLOUD", Caitlind Brown's installation was constructed mostly out of donated light bulbs, given to Brown when she launched a light bulb drive through Calgary last month.
Thousands of people spent time under the illuminated sculpture, pulling at the strings, turning the lights on and off and snapping photos.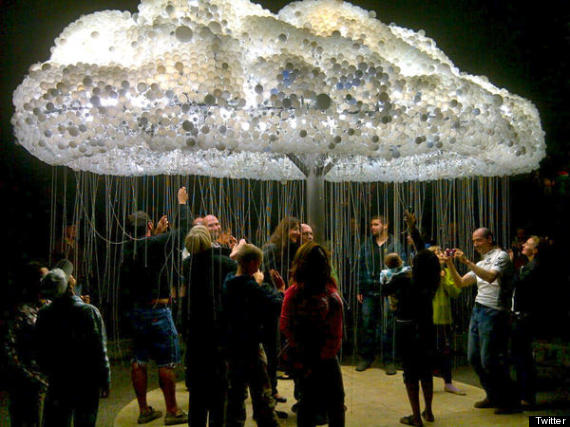 This was the inaugural year for Nuit Blanche Calgary - the popular nighttime festival has become a hit in larger cities such as New York, Toronto and Paris. Nuit Blanche artists come to a city space to showcase their interactive art installations, which often encourage audience participation.
According to the Calgary Herald, Nuit Blanche is currently scheduled for the next five years in Calgary.
According the Wikipedia the Nuit Blanche concept started with Jean Blaise, founder of the Research Center for Cultural Development in Nantes, France. Blaise created and promoted a series of smaller, all-night festivals around the world and when Bertrand Delanoe became mayor of Paris in 2001 Nuit Blanche was born. Nuit Blanche is now celebrated in more that 120 cities around the world.
Calgary's Nuit Blanche also featured a carousel powered by Parkour runners, a pair of town criers perched atop a giant moon and a giant mountain, and an exact replica Belfast pub called The Candahar.
Check out photos in our gallery below.