It's something every Calgary LRT user has experienced: It's terribly hot or terribly cold out and you've been stuck on a C-Train for what seems like hours. There are a million other people standing too close to you, touching you, breathing on you. It smells kind of weird. You are tired. You can't wait to get home. You wish this were like a video game, where you could just slide down a green tube and be warped into another world.
Well, now you can! Sort of.
Dave Delisle of the website davesgeekyideas.com has recently given the Calgary Transit LRT map a makeover - in the style of old-school Super Mario 3. And it looks really nerdy and cool.
To be fair, this isn't the first time Delisle has done this. In fact, he's been doing it for cities around North America for quite some time . This is the second incarnation of Calgary's map, which now features the new Martindale and Saddletowne stops on the northeast line, the southwest leg of the LRT slated to open by early next year and the soon-to-open Downtown West-Kerby station.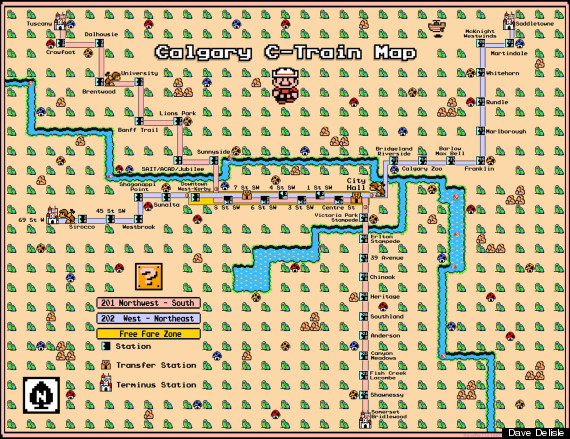 For the hard-core gamers, or the people old enough to remember, Delisle's first map was created in the style of World Four, but according to his website he considered it a bit flashy, and went with the more classic stylings of World One this time around.
Because Calgary is a landlocked city, however, Delisle was trapped in somewhat of a creative box. "I couldn't add any coin boats or warp pipes (to denote 'off-screen' travel), among the many items seen in the Vancouver one," says the Calgary native in his blog post. He did, however, get the Bow and Elbow River in there, as well as some fish, toadstools, castles and Goombas.
Regardless, Delisle's graphics are an awesome blast from the past and just thinking about them can take you from the living hell that is sometimes riding the C-Train and whisk you away to a world of Mario, Luigi, Princess Peach and Bowser. Just remember to stay behind the yellow line and watch out for flying fireballs.
Check out our gallery below to see more of Delisle's creative maps.