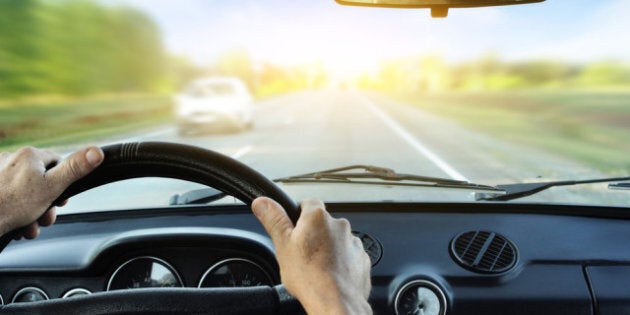 Fewer people ended up in emergency rooms due to car crashes in Ontario after doctors were paid to report patients who shouldn't drive for medical reasons, a new study finds.
In Wednesday's online issue of the New England Journal of Medicine, researchers looked at the emergency visits for road crashes before and after doctors warned patients considered unfit to get the behind the wheel.
Since 2006, Ontario has paid doctors $36.25 to provide warnings to patients who are potentially unfit to drive. The program resulted in the suspension of a driving licence in about 10 to 30 per cent of cases, Dr. Donald Redelmeier, the study's lead investigator and a senior scientist at the Institute for Clinical Evaluative Sciences in Toronto and his co-authors said.
Other patients received a stiff warning letter from the transportation ministry.
"These findings suggest that medical warnings to patients who are potentially unfit to drive can be both lifesaving for individuals and cost saving to society but require clinical judgment and should not be carried to excess," Redelmeier said.
"The reduction in risk was immediate, substantial, and sustained."
For the study, researchers analyzed data for 100,075 patients who received medical warnings from 2006 to 2010. In the three years before the warning program change, there were 1,430 collisions in which the patient was a driver and went to emergency, compared with 273 crashes in the year afterwards, which the researchers said represents a 45 per cent reduction in the annual rate of crashes per 1,000 patients.
The decrease was largest among elderly women with high socio-economic status, living in rural areas.
Compromising doctor-patient relationship
Patients with a combination of diagnoses, such as heart failure and diabetes, were at greatest risk. Alcoholism topped the list of underlying conditions that were associated with crashes before a patient received a warning, Redelmeier said.
"For the conditions that they highlight, alcoholism, epilepsy, dementia, there's little debate that these conditions specifically can affect your ability to drive so I think it's important to do this" reporting, said Dr. Shawn Marshall, a specialist in physical medicine and rehabilitation and an associate professor at the University of Ottawa who was not involved in the study.
The decrease was associated with worsening depression in some patients and a decrease in visits to the responsible physician in some cases, which compromises the doctor-patient relationship without reducing the patient's risk to that of the general population, the study's authors said.
The findings emphasize the importance of exercising judgment and showing compassion when delivering the bad news to patients, Redelmeier added.
The researchers did not have access to data on related factors such as driving records, distance travelled, use of medications, driver testing and past suspensions.
They also did not know how severe a patient's medical condition is, which is important when doctors are assessing someone's ability to drive, Marshall said. Someone with a mild stroke could be able to compensate for weakness on one side of the body while another patient with more severe disability or less driving skill might not.
Patients may have decided to restrict their driving on their own, such as travelling shorter distances or driving with greater care. Warnings from family members could also contribute, the researchers said.
Senior drivers
Other explanations for changing driver behaviour include mechanical problems with a vehicle and changes in symptoms.
A commentary in this week's issue of the British Medical Journal warned that medical ageism may fuel the belief that older drivers pose a disproportionate risk to other road users.
"We should focus on evidence based innovations, such as restricted licensing and rehabilitation, for people with age-related illness," said Dr. Desmond O'Neill, a consultant physician in geriatric and stroke medicine at Trinity College in Dublin.
"This is the best approach to protect the safe mobility, and avoid further unhelpful stigmatization, of a group whose ranks most will join in due course."
The study was supported by the Canada Research Chair in Medical Decision Sciences, the Canadian Institutes of Health Research and the Comprehensive Research Experience for Medical Students of the University of Toronto Faculty of Medicine.