There's something irresistible about a bride and groom riding a tandem bike; two giddy newlyweds riding off into their future, totally in sync. From the fresh color palette, to the lakefront photo shoot and the playfulness of the bicycle-built-for-two, this Oakville, ON. wedding has happiness written all over it. Scroll down to read more from the bride and to see gorgeous photos, captured by Click Photography.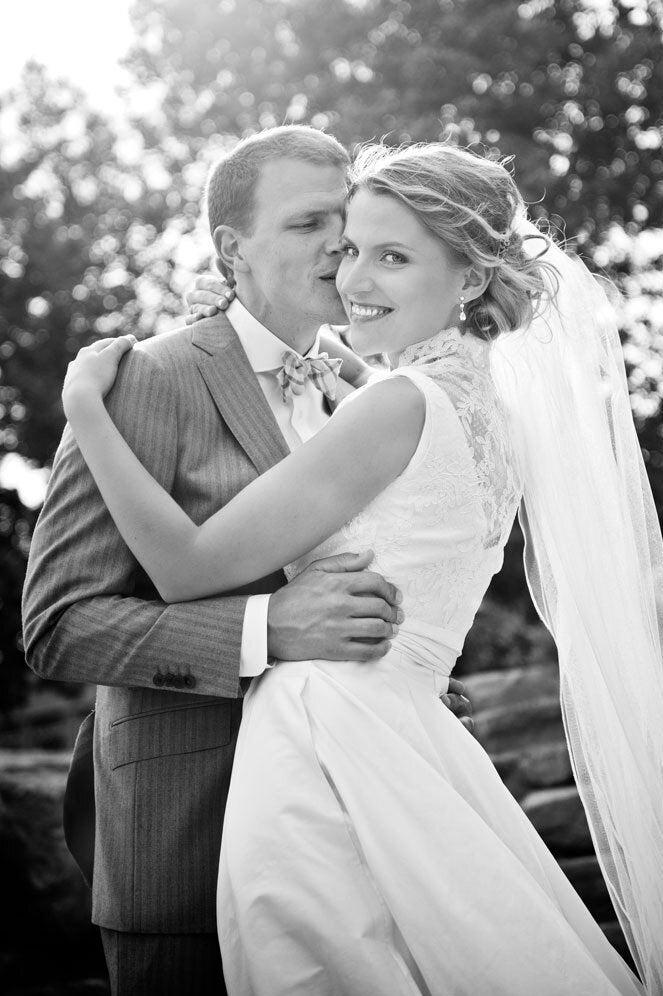 Real Wedding: A Tandem Bike Wedding In Ontario
From the Bride: We wanted a fun, relaxed and cozy atmosphere where guests felt included and welcome. Since Ruben is Dutch and I am Canadian, we also wanted to combine the traditions from both sides -- so when we designed the ceremony program we balanced the readings and songs from both Canadian, Dutch and our combined traditions. I think that made it a special event, at least we felt it was very special, and our guests seemed to really enjoy the ceremony as well! We also wanted for things to suit our style and characters - the type of flowers we chose -- hydrangeas, garden roses, freesias -- the colour theme, the cake, the music. We thought about what we liked, what our combined style was, and how we wanted that to come through in our choices.We loved seeing all of the people there from so many parts of our lives together in one spot. It was an incredible feeling to have the love and support from so many people all concentrated at that one time. I loved when Ruben's family surprised us with a song during the ceremony, and to see my parents so happy in the receiving line. We both loved the speeches and taking pictures as a new family down at the lake... and of course Ruben doing his bicycle tricks!"
Groom and Groomsmen's Bow Ties:Etsy