It's rare to get a glimpse of stunning Northern Lights in Alberta, and even more so at Calgary and Edmonton's low latitude. But last night the dancing aurora put on a brilliant show for people in both cities.
Starting around 10:30 p.m. Sunday evening, whisps of green were spotted directly overhead. The colour quickly intensified and dazzling bright green light danced in the sky for a couple of hours.
Check out some photos captured by Calgarians and Edmontonians and posted to Twitter: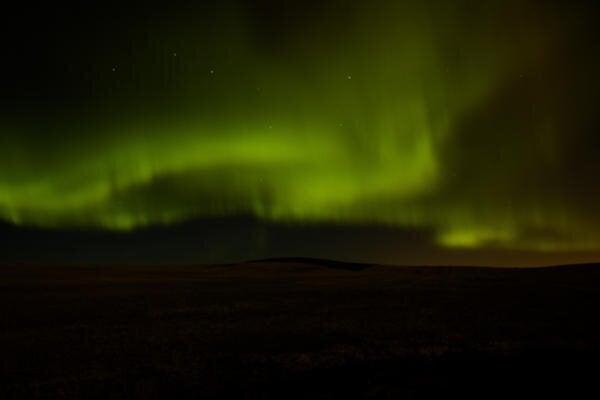 Beautiful Northern Lights Over Alberta
Why do the Northern Lights appear to dance and shift in the sky? Howstuffworks.com tells us:
All of the magnetic and electrical forces react with one another in constantly shifting combinations. These shifts and flows can be seen as the auroras "dance," moving along with the atmospheric currents that can reach 20,000,000 amperes at 50,000 volts. (In contrast, the circuit breakers in your home will disengage when current flow exceeds 15-30 amperes at 120 volts.)
And, yes, Northern Lights can be very hard to capture on film, especially in a city. Big props to Calgary's Matthew Brucker for shooting these incredible pictures.
For more information and email alerts for Aurora Borealis over Alberta, sign up at Aurora Watch.