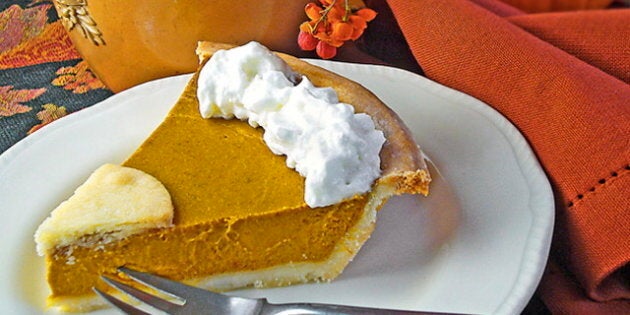 When you are all set to make your pumpkin pie for this year's Thanksgiving feast, why not start from scratch with your own homemade pumpkin puree? Small "pie" pumpkins are now available at many farmers markets so you can savour locally grown harvest flavour.
23-cm (9-inch) pie crust, partially baked in advance
50 ml (1/4 cup) granulated sugar
45 ml (3 tbsp) brown sugar
7 ml (1 1/2 tsp) ground cinnamon
5 ml (1 tsp) ground ginger
1 ml (1/4 tsp) freshly grated nutmeg
150 ml (2/3 cup) 35 per cent whipping cream
22 ml (1 1/2 tbsp) brandy (optional)
Heat oven to 180 C (350 F).
Cut pumpkin in half; scrape away seeds and fibre and place cut side down on an oiled baking sheet. Cover with foil and bake until very tender. Timing will vary from 35 minutes to over an hour depending on the size and density of the pumpkin. Let pumpkin cool, then remove peel and mash until very smooth. If you wish, force puree through a fine-meshed sieve for extra smooth texture. Let cool and refrigerate. Set aside 375 ml (1 1/2 cups) pumpkin puree for this 23-cm (9-inch) pie; any extra can be frozen for future use.
In a large bowl, using an electric mixer on medium speed or with a whisk, beat eggs and both sugars together until combined and smooth and pale in colour. Add pumpkin, cinnamon, ginger, nutmeg and salt. With electric mixer or using a wooden spoon, stir to combine. Fold in cream and brandy, if using. Place pie plate lined with partially baked pastry shell on a baking sheet. Fill with pumpkin mixture. Bake in a 180 C (350 F) oven until pastry is golden and filling is just set, 40 to 45 minutes. Let stand for 10 minutes.
Serve at room temperature or chilled, perhaps with a spoonful of sweetened vanilla or brandy-flavoured whipped cream on the side.
Tips: Do not overbake pumpkin pie or the filling will dry out and crack. Remove pie from oven when the filling is puffed around the edges and just beginning to be firm in the centre.
You may substitute 375 ml (1 1/2 cups) of canned pumpkin puree in the recipe above. Do not use canned pie filling as it is already sweetened and spiced.
Source: "All The Best Recipes" by Jane Rodmell (Robert Rose, 2009); www.robertrose.ca