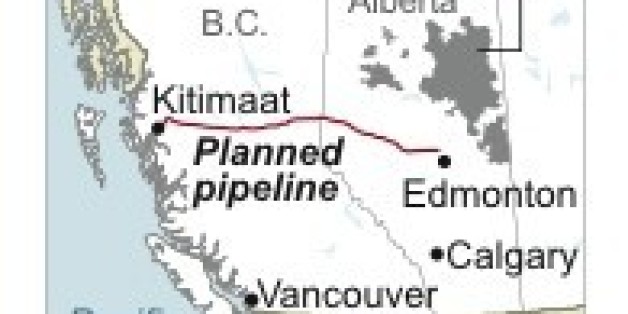 AP
CALGARY - An economist says one of the simplest ways British Columbia can get its fair share of oil pipeline revenues is by imposing higher property taxes on those projects.
"In fact, they have a special classification for pipelines and they can really bump up that property tax on pipelines if they want to get more revenue," Jack Mintz, with the University of Calgary's School of Public Policy, said Thursday.
Under that scenario, the higher tax costs would be passed along to the producers that would use Enbridge Inc.'s $6-billion Northern Gateway line or Kinder Morgan's $4.1-billion Trans Mountain expansion to ship crude from Alberta to the West Coast for export to Asia.
"Of course what happens is the industry starts getting squeezed," said Mintz.
However, Mintz said he'd rather see a more conciliatory approach to figuring out how the benefits and risks of West-Coast oil pipelines ought to split up between Alberta and B.C.
"I do think that B.C. right now has instruments that they can use that would be appropriate and they should then think about doing that if they want to go in that direction," he said.
"I think it would be better for all concerned, including both Alberta and B.C. and the industry, if there's kind of a deal made."
Another option, which Mintz does not endorse, is imposing "transit fees" on oil moving between provinces. Such a move raises all sorts of constitutional issues and would set a bad precedent, he said.
"Then the next thing you can do is have a tax on highway trucks going across provinces or putting a tax on railways going across provinces and we certainly don't want to start doing this with the United States, where we have all sorts of pipelines going down to the United States," he said.
B.C. Premier Christy Clark says five conditions must be met before her province will allow projects like Northern Gateway or Kinder Morgan's Trans Mountain line to be built.
Three have to do with the environment, one relates to First Nations issues and the last — the most contentious — is that B.C. must get a slice of the pipelines' economic benefit that reflects the environmental risk it would be bearing.
Alberta Premier Alison Redford, who met with Clark in Calgary on Monday, has flatly dismissed the idea of sharing royalties with B.C. as a "non-starter" and said she was disappointed Clark hasn't taken that notion off the table.
Speaking to students at the School of Public Policy earlier in the week, Clark said the ball is in the pipeline proponents' court when it comes to working out a revenue-sharing deal.
Clark added that it wasn't her job to champion the project, and that "those champions are unlikely to come from British Columbia."
Clark has said B.C. Hydro, the Crown corporation that would provide power to the pipeline, could be a potential lever and that the province also has the power to withhold 60 permits.
So far, Clark hasn't specified what a fair economic share would be worth.
Clark said she feels like the repairman in old Maytag commercials, waiting for the phone to ring with a proposal from pipeline proponents she can accept.