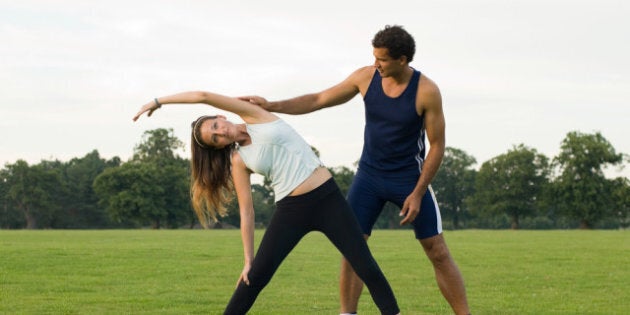 There isn't one size that fits all when it comes to personal training.
Instead, just like any diet or workout, personal trainers should be chosen depending on your desired workload, fitness goals and budget.
"A trainer is perfect for anyone who is looking to accomplish a specific fitness goal, whether it be to learn how to properly workout, lose fifteen pounds or run a 10 km race," he says.
But if you're afraid of being pushed around or responding to a drill sergeant, don't be. "People may not choose to have a trainer because they feel intimidated, thinking they'll be pushed around. A qualified trainer should be able to make a client feel comfortable while pushing their boundaries to safely achieve their goals," Reynolds tells the Huffington Post Canada.
There's no question gym memberships and classes can get pricey, and an average one-on-one trainer session can start from $80 an hour. If you're on a budget, Reynolds recommends cutting down on costs by grabbing a friend and sharing a session with a trainer instead (though be warned, the price tag won't be halved, just less). He also recommends trying out bootcamp classes with certified instructors — at least this way you will be able to get a sense of working with a trainer at your own pace.
"Your trainer should understand your level of fitness without having you fear for your life or feel like you are falling behind," Reynolds says.
If you are starting to shop around, here are some questions and fitness levels to consider when looking for a personal trainer: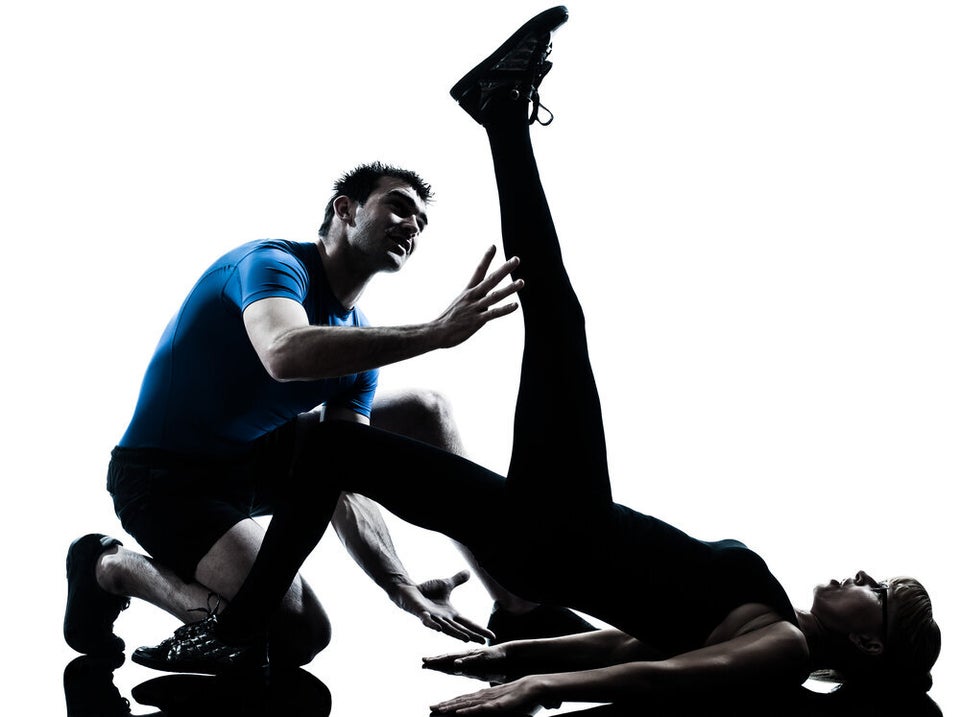 How To Choose A Personal Trainer
New to this whole fitness thing? Let your trainer know. "At the basic level, a personal trainer teaches clients the fundamentals and gets them into a routine. This is often where clients see results the quickest," Dr. Adam Reynolds, chiropractor and co-founder of Catalyst Health, says.
Fitness Level: Intermediate
If you're already active, a trainer who specializes at the intermediate level might be right for you. "At an intermediate level, a trainer builds up the client's fitness confidence and keeps them motivated," he says.
"Advanced" applies to those of you who've already reached your fitness goals. "These clients need to be challenged further. A trainer will provide a diversified workout at this level," Reynolds says.
Fitness Level: Elite Or Athlete?
This type of workout and trainer may not be the right fit for most of us — but it's important to know your options. "The elite or athlete level is where a conditioning specialist or certified strength and conditioning specialist will take the client to the next level by incorporating agility, speed, strength and endurance challenges into a single, high-intensity workout," Reynolds says.
Questions To Ask: Years Of Experience
Your personal trainer should be comfortable with their expertise. Ask the trainer how many years they've been training to get a better understanding of the kind of workout you may need.
Questions To Ask: Similar Experiences
If there's a particular reason for hiring a trainer — an injury, for example — ask the trainer if they've had experience with that specific type of injury and what the road to recovery is like.
Questions To Ask: Are They Certified?
Reynolds advises clients to ensure that their trainers are certified to practice for better results and safety. As personal training is unregulated in Canada, it's important to ask about programs your trainer has gone through — three of the biggest are Can Fit Pro, CPTN and CSEP. A helpful chart explaining the differences can be found at the Personal Training Development Center.
Questions To Ask: Do You Have A Reference List?
Reynolds suggests taking time to research the trainer and asking him or her if they have access to testimonials or references. Don't feel embarrassed about "checking up" on the potential trainer — you need to know what individual experiences are like.