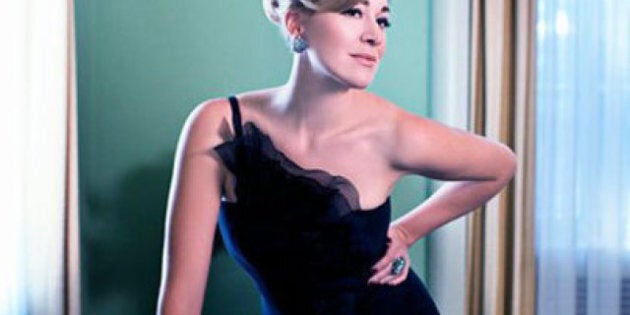 Canadian singer Jill Barber embarked on her Australian tour yesterday and while it's sure to be filled with some interesting anecdotes, kicking it off with a search and rescue mission aboard Air Canada flight AC033 will top them all.
"An eventful flight for sure!" Barber recounted via a lengthy email earlier this morning.
On Monday night news broke that Barber was part of a rescue mission after a boat capsized with three people in waters south of Sydney. Barber's husband (and CBC Radio 3 personality) Grant Lawrence -- who took his wife to the Vancouver airport -- tweeted "Wifey @jillbarber safely in Oz but not b4 her @aircanada flight took part in a successful search and rescue recon for a capsized boat!!!"
"It was an exciting end to the flight, to be sure, but I confess I did not personally see the boat," said Barber. "I was sitting right next to the wing on the left-hand side of the plane, and the boat was spotted by a number of passengers on the right side."
In a series of tweets to Lawrence, Air Canada said the pilot received a call from "Air Traffic Control asking if they could pass over an area 275 miles south of Sydney to try to locate a yacht that had sent out a distress call." The plane -- which descended to a height of 6,000 feet -- had enough fuel to pass over the area and asked passengers if they had binoculars to take them out in the hopes of spotting the yacht.
"We did circle around the site a few times, and though I had a window seat I could not identify the boat myself," Barber said. "I spoke to those who did... apparently it was very small and distant. You would have needed binocs to identify the people on it, I think."
In a separate email, Lawrence said Barber told him the plane was "dipping its wings back and forth so people could see the ocean" in the hopes of spotting the trio.
"They did spot the yacht over-turned with three people sat on top of it," Air Canada continued in its string of tweets. "They passed over twice so that the yacht knew they had been spotted" before contacting Air Traffic Control with the position of the yacht. From there flight AC033 continued on to its destination of Sydney.
The Australian reported that a yachtsman left Pittwater on Sydney's northern beaches two weeks ago for Eden located on the New South Wales southern coast. After drifting for several days he activated an emergency beacon. The report also indicated an Air New Zealand flight from Auckland to Sydney was also asked to participate in the search and rescue. Rescue vessels were expected to reach the yacht Tuesday evening local time.
Barber said when she initially heard the captain announce the detour for the search and rescue mission her reaction "was one of shock and concern" after a normal 14-hour flight from Vancouver to Sydney.
"But the crew kept us informed, and certainly involved every passenger in the mission, asking us all to look out the window/offer up any binocs if they had them," she said, adding if passengers saw anything they were to "alert the crew" by pressing the call button.
"And then when the boat was spotted the whole plane breathed a sigh of relief and the captain and crew were proud of having successfully pinpointed the boat," Barber said. "We all applauded."
Barber also corrected her husband's earlier posts suggesting rescue helicopters were on their way as "we didn't see any rescue helicopters come in... we simply pinpointed the exact location for search and rescue, and then we ascended on the rest of our journey."
As for possibly meeting the trio of people she and those aboard the plane had a hand in saving, Barber said she has no plans "to connect with the saved passengers," but would look for the story in the newspapers. She also said she would "maybe tell the story on the radio tomorrow" as she's doing press while touring Australia.
"I've never been a part of a search and rescue effort before, and was really only a part of this one by happenstance."
Barber, whose last album was 2011's Mischievous Moon, begins her 11-date Australian tour in Brisbane on Oct. 18, which includes a three-night stand in Sydney before wrapping up in Melbourne on Nov. 2. From there the singer heads to Atlantic Canada for a string of dates in the Maritimes commencing in mid-November before a date in Vancouver on Nov. 25.