UPDATE: The Huffington Post B.C. has learned the shot guard, Lori Bowcock, is recovering from surgery. She has been working as a Canadian Border Services Agency officer in B.C. for less than a year.
A Canadian border guard was shot while on duty at the Peace Arch U.S.-Canada crossing.
The female guard was airlifted to hospital after being shot in the "neck area" Tuesday afternoon, said Surrey RCMP Cpl. Bert Paquet. The lone male suspect then shot and killed himself.
The guard, who suffered serious injuries, was conscious and breathing when she was taken to the hospital, said RCMP. Late on Tuesday night, officials said she was in stable condition.
The Integrated Homicide Investigation Team has taken over the investigation because of the "attempted murder" aspect of the case, said Sgt. Jennifer Pound on Twitter.
Investigators are reviewing video surveillance and going through the suspect's vehicle as they try to determine the sequence of events leading up to the shooting.
The man, who was alone in a white van with Washington state licence plates, was trying to enter Canada at the Douglas border crossing, more commonly known as the Peace Arch, in Surrey, B.C., said Paquet.
A witness told CKNW that she heard two shots at around 2 p.m., then saw several guards drawing their guns.
Story continues after gallery: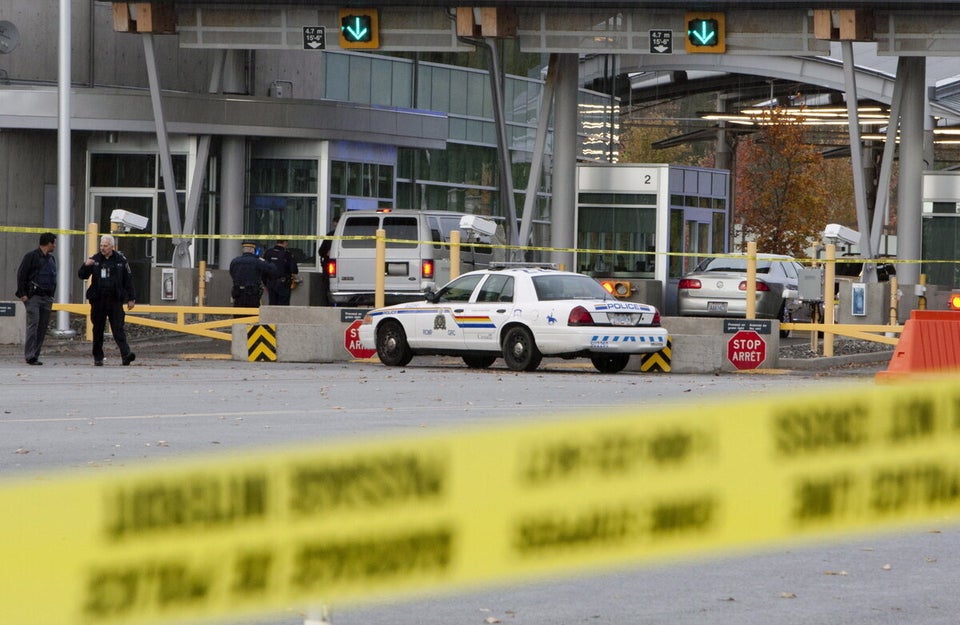 Peace Arch Border Shooting (Pictures)
Dave Noble, who was in his vehicle waiting to cross into Washington state, noticed a commotion just before 2 p.m.
"I looked over here and saw all the boys running to that white van there, yelling, screaming "Get out of the van!," guns drawn. It was a crazy scene," he told reporters.
Noble said he works in White Rock, B.C. and encounters the "friendly" border guards regularly when he drives across the border to buy gas.
"Kinda sad to hear that one was hit," he said.
People who were in line at the border couldn't leave until they were cleared by police investigators. Paquet said the border crossing would be closed for several hours. Officials advised people to divert to the Pacific Highway or Aldergrove crossings.
The B.C. Ambulance Service said it sent two ground vehicles and an air helicopter to the Peace Arch crossing, reported CBC News.
A clerk at the Peace Arch Duty Free Shop said the store was locked down for about an hour. He told The Huffington Post B.C. he could see helicopters and lots of police activity outside but he didn't hear any shots.
The Peace Arch border is the third busiest crossing between Canada and the U.S., with an average of 3,500 vehicles on a slow day. At peak periods, when 4,800 vehicles can cross, border waits can reach four hours on either side.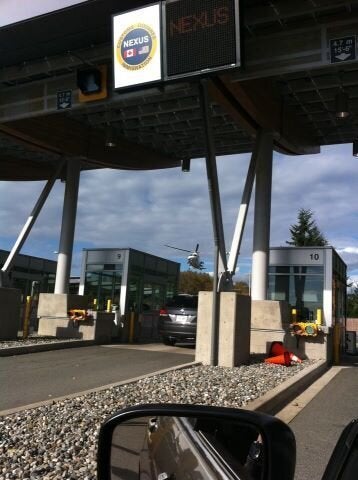 Peace Arch Border Shooting (Reaction)