HuffPost Canada
The Huffington Post Canada and two of its contributors have won Canadian Online Publishing Awards (COPA)
NDP MP Charlie Angus took gold for Best Blog in the daily and weekly newspapers, and broadcasters category. Angus' blog, "What if They Declared an Emergency and No One Came?," sparked public outcry over the humanitarian crisis in Attawapiskat and exploded on social media with more than 23,000 Facebook shares.
"For decades the federal government has allowed horrific conditions like Attawapiskat to fester because they always made the political calculation that such stories would be ignored as just another case 'out of sight-out of mind' for the Canadian people," Angus said. "Well welcome Media 2.0. Thank to online news and a little flip camera, the government, the nation and the world came face to face with the urgent need to reform our relations with Canada's First Peoples."
Blogger JJ. McCullough also won silver in the Best Blog category for his regular series, Media Bites.
"I'm so proud of our bloggers. Charlie showed the incredible social good that can be achieved through social media. And J.J. is a talented, smart and take-no-prisoners media columnist that has put the Canadian media on notice," said Danielle Crittenden, former Managing Editor of Blogs for HuffPost Canada. Crittenden is now International Blogs Editor for Huffington Post.
Winners were announced Monday night in Toronto.
Other winners in the green division included the National Post for best overall companion website, the Toronto Standard for best website design and CBC News for best online-only news publication.
Huffington Post Canada and AOL Canada were up for eight awards in total Monday night, including best news coverage for politics, the NDP leadership convention, our Mind The Gap series, and a blog by Douglas Anthony Cooper. Spinner Canada received its second consecutive COPA nomination, with a nod for Best Blog in the consumer, custom, religious, public association division.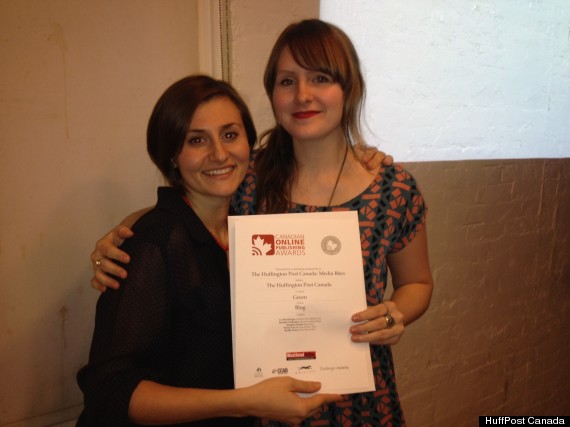 Blog editors Angelina Chapin and Devon Murphy with one of two COPA awards The Huffington Post Canada won Monday night.
Also on HuffPost
HuffPost Canada's First Year In Splash