Ever wonder how many people have "checked in" on your partner's private parts before you did?
Playing off Facebook's popular "check in" feature, a Finnish advertising agency has created two promotional video campaigns (one for the fellas and one for the ladies) for an ongoing sex safety campaign for the HIV Foundation/AIDS Council of Finland.
Both ads feature a typical bedroom sex scene, but right before each person removes their underwear, a check-in icon appears on screen, along with the number of people each person has slept with. The campaign is focused on raising awareness for safe sex and encouraging people of all ages to use condoms.
Using popular online apps to grab the viewers' attention is nothing new for both the campaign and ad agency, McCann Worldgroup Helsinki. In February, the campaign placed Google Places graphics on private parts, to again raise awareness for HIV/AIDS in Finland.
Story continues below: An ad from February's Google Places campaign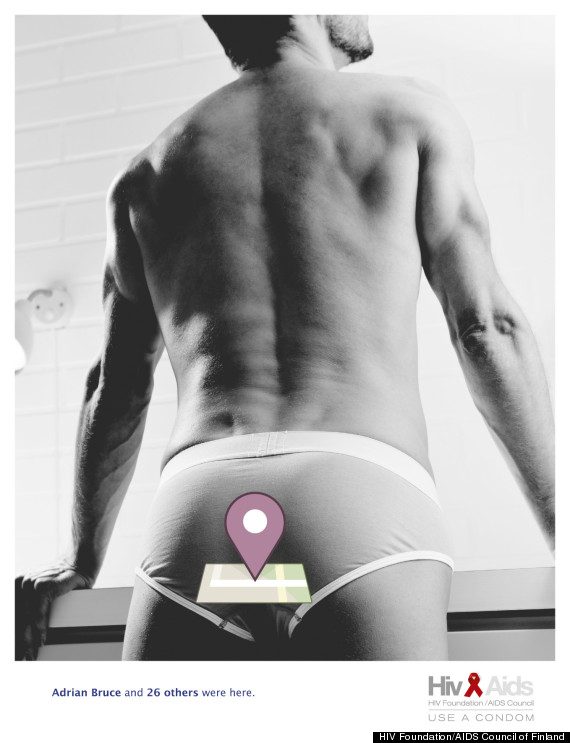 In Canada, there are more people today living with HIV than there were 10 years ago, says Christopher Bunting, CEO of the Canadian Foundation For AIDS Research (CANFAR). The number of teens aged 15 to 19 diagnosed with HIV/AIDS in Canada continues to increase every year, CANFAR reports.
In 2009, a similar ad campaign was done by Montreal ad agency Bleublancrouge, depicting people making out with the tagline, "Each time you sleep with someone, you also sleep with his past. Get tested for HIV."
What do you think, are these ads raising awareness or just selling sex? Let us know in the comments below:
ALSO: HIV/AIDS in Canada and worldwide by the numbers.
Sources: Casey House, Avert.org, Public Health Agency of Canada, CBC.