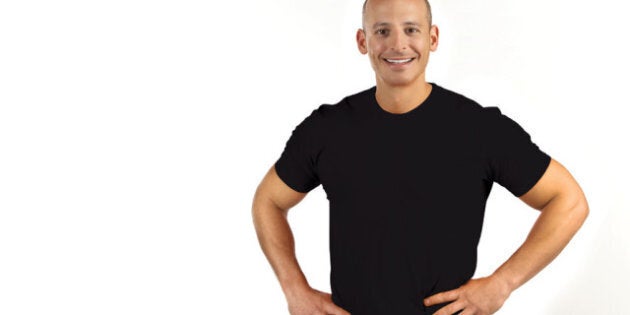 The Toronto native has been embraced by the Hollywood community for his in-depth training and nutrition programs, and many of them claim they couldn't do a movie without him. Pasternak's not only the author of uber-popular training bible The 5-Factor Diet, but as of September, he's also the star of his very own video game.
Bring on the Katy Perry shoulders, we say.

What is your idea of perfect happiness?
My idea of perfect happiness is sitting with my wife, eating a freshly baked chocolate chip cookie with a perfect espresso.
What is your greatest fear?
My greatest fear is ever thinking I know enough about my craft – or about anything for that matter. For me, the most important thing is to constantly grow and I'm constantly studying my craft and new research and science and what comes out every day.
What is the trait you most deplore in yourself?
I think I'm somewhat obsessive-compulsive. I think you kind of have to be to be successful, but I would say that I can be a control freak – especially about my career.
What is your greatest extravagance?
I would say… coffee. There is no limit to what I would spend on fancy espresso machines, expensive beans, extravagant roasting machines... I'll drive distances for amazing espresso and pay way too much for a perfect cappuccino.
On what occasion do you lie?
I'm Canadian. We don't lie!
What drew you to fitness and nutrition?
I was a hockey player in Canada and both my brothers had Type 1 diabetes. Because of those two things, I was always fascinated with exercise and healthy eating. I went on and spent close to a decade at different universities in Canada studying exercise physiology and nutrition. Next thing I know I was on "Oprah"!
What is one thing you'd change about your industry?
The one thing I would change would be to create some standards and regulations within the industry – especially fitness. I mean, anybody and everybody can call themselves a trainer, and that's a problem. There need to be more barriers of entry and more regulations in academics and knowledge needed on an ongoing basis to keep up with your credentials.
When and where were you happiest?
That answer keeps changing every day – I mean, things keep happening that make me constantly happier and happier, but if I had to choose I'd say the first day I met my wife.
What do you consider your greatest achievement?
That's a good question. For me, I guess there are three things that as a young teenage boy you always like, pie-in-the-sky joke about with your buddies: your own video game, your own running shoes, and your own brand of chips. I've got those and I think that's pretty cool.
Who are your heroes in real life?
Wow. I'd say my clients – it ceases to amaze me, the level of success they have. When I see that, it reminds me that no matter what I've accomplished, I'm surrounded by people who are accomplishing things that much bigger – that much greater, on a much larger scale. It keeps me humble. And… of course… my parents.
How would you like to die?
Really old, happy, and in my sleep.