 TORONTO -- Canadian financial service companies in the reinsurance business could take a financial hit from superstorm, Sandy, the furious storm that has all but shut down the Eastern Seaboard.
The storm roared ashore on the New Jersey coast Monday night was also brought heavy rains, strong winds and high waves in parts of Ontario, Quebec and the Maritimes.
The National Hurricane Center in Miami said the centre of the enormous storm made landfall at 8 p.m. near Atlantic City, after it was reclassified from a hurricane to a post-tropical cyclone.
Preliminary estimates are that damage will range between $10 billion and $20 billion. That could top last year's hurricane Irene, which cost $15.8 billion.
If so, Sandy would be among the 10 most costly storms in U.S. history. But it would still be far below the worst _ hurricane Katrina, which cost $108 billion and caused 1,200 deaths in 2005.
Peter Morici, professor at the University of Maryland pegs the economic impact in the U.S. even higher -- at about $35 to $45 billion.
Story continues below gallery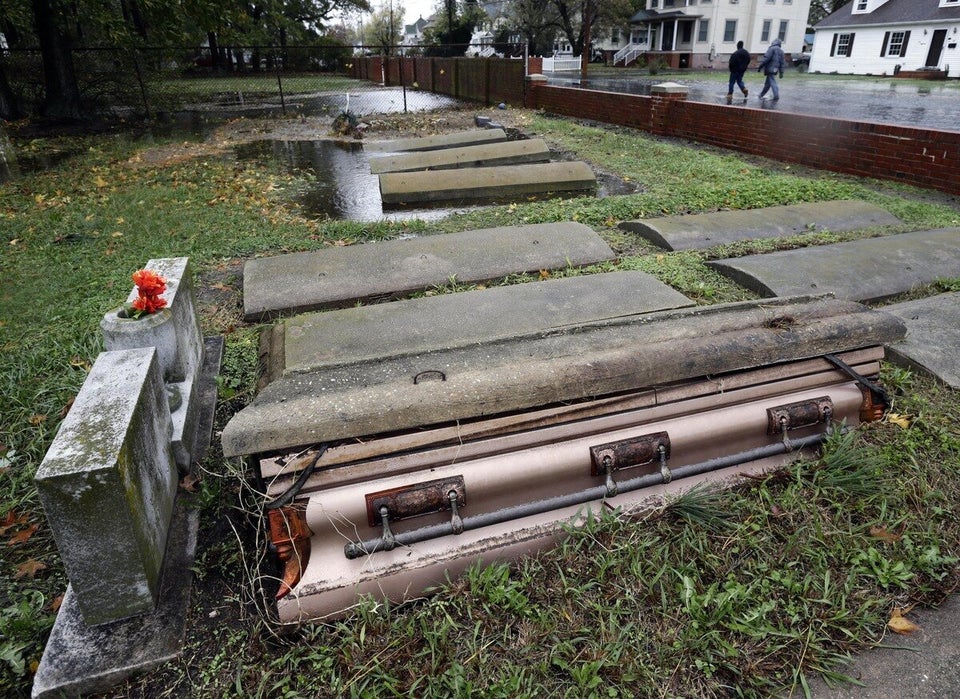 "It seems likely that Sandy will impose greater destruction of property, and add to that the loss of about two days commercial activity, spread over a week across 25 per cent of the economy,'' he said.
Canadian companies who provide reinsurance to property and catastrophe insurance companies, such as Bank of Montreal (TSX:BMO), Great-West Lifeco. (TSX:GWO) and Manulife Financial Corp. could see a drag on earnings in the fourth quarter if damage is significant, says RBC analyst Andre-Philippe Hardy.
Reinsurance companies write backup insurance for primary insurers so that the insurance industry can cover catastrophic claims, such as from natural disasters. The impact on the companies depend on many factors, such as how much of the damage was insured by them and how much they charged for coverage.
In Monday trading on the Toronto Stock Exchange, BMO shares closed 17 cents lower at $59.57, Great-West Life lost nine cents to $22.70 and Manulife stock was down 1.3 per cent or 16 cents at $12.14.
Wall Street markets were closed until at least Wednesday in the face of the storm. The last time trading was halted for two consecutive days due to weather was in 1888.
However, Hardy said he didn't think the effects would have a lasting impact on their stock values.
"For all three institutions, exposure is generally at a level that represents a potential drag to quarterly earnings -- i.e., the exposures are managed to be below a size that would erase quarterly earnings or cause a capital issue. As such, investors usually look at catastrophe hits as one-time and there is no lasting effect on stocks.''
Hardy pointed to financial impacts on those three companies related to earthquakes in Japan and New Zealand in 2011 as examples of their risk management strategies.
Great-West booked $84 million in net negative impacts, while Bank of Montreal had $55 million.
Manulife was hardest hit by the Japanese earthquake and had a $151-million after tax losses related to the disaster, and Hardy believes it also has the largest exposure to U.S. hurricanes.
"We believe that Manulife has high attachment points (and single-event limits) for U.S. hurricane exposure. When Katrina hit New Orleans in 2005, it caused after tax losses of US$165 million for Manulife,'' he said.
Fairfax Financial Holdings Ltd., one of Canada's largest insurance and reinsurance groups, also took a financial hit from Japan's massive earthquake and tsunami, but was not mentioned in Hardy's note.
If the storm did cause damage in Canada, Intact Financial Corp. (TSX:IFC), the largest provider of property and casualty insurance in Canada, would also have exposure, he added.
Shares in Intact closed down 1.9 per cent, or $1.15 at $59.50 Monday.
Canadian Hurricane Centre spokesman Bob Robichaud said the western Maritimes will see the most rain, with between 50 and 100 millimetres predicted from Tuesday into Wednesday.
Southern Ontario won't be quite as water-logged, with 30 to 50 millimetres of rain expected, but in that region wind will be the biggest concern, as Sandy will bring about 90- to 100 kilometre-per-hour winds, Robichaud said.
Those winds will also whip up the Great Lakes, generating waves of up to seven metres in Lake Huron, he said.
Utility companies in Ontario were preparing for the onslaught by having crews ready to respond to any calls about damage. Emergency Management Ontario warned the storm may result in flooding, road closures and power failure.
Hundreds of flights leaving from airports across Canada bound for the U.S. East Coast were cancelled. At Toronto's international airport, one-quarter of all of its flights departing Monday were cancelled.
Air Canada and WestJet were among those forced to cancel flights.
Carriers could suffer a short-term hit to earnings as they spend more to shuffle crews and planes.
Hurricanes, like other disasters, can cause big losses but also big spikes in economic activity, once homes and buildings are rebuilt or repaired. And Americans may spend more before the storm when they stock up on extra food, water and batteries. Spending can also rise afterward as households restock.
"Rebuilding after Sandy, especially in an economy with high unemployment and underused resources in the construction industry, will unleash at least $15-20 billion in new direct private spending,'' Morici estimates.
"And the capital stock that emerges will prove more economically useful and productive.''
-- With files from the Associated Press