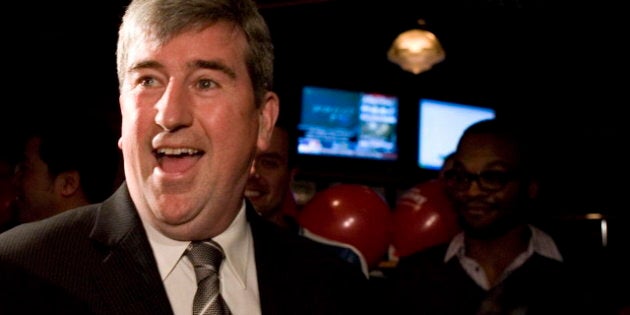 TORONTO - The Ontario Liberal leadership race began in earnest Sunday with the first campaign launch, as former cabinet minister Glen Murray kicked off his bid to succeed Premier Dalton McGuinty.
"We are a great party of ideas, of action and certainly of achievement," the former Ontario cabinet minister and Winnipeg mayor said during a news conference at Toronto's famed Maple Leaf Gardens where he announced his candidacy.
"I have new ideas to renew our vision. Ideas that will work so we can continue to keep Ontario great. Ideas built on our success, on our achievement and my own experience and leadership."
Murray, 55, made the announcement a day after stepping down as Ontario minister of training, colleges and universities — McGuinty has said any minister entering the race must first quit cabinet.
The Toronto-Centre MPP said his experience as a big-city mayor and at the Ontario legislature makes him confident that he can take the reins of the party, which has struggled since forming a minority government.
"This race is like no other," Murray told a cheering crowd of supporters.
"The winner of this race will be the premier of a minority government with an opposition set to force an election. This race is about picking someone who has a clear agenda and a premier who is ready if forced to take the Liberals into election and win another mandate."
McGuinty announced on Oct. 15 that he was leaving public office after nine years as premier and 16 years as party leader.
Murray said he is the perfect candidate to "reset" and renew the Liberals.
If chosen to lead the party, he promised a five-point platform centred on tax cuts for small businesses, up to $500 in tax rebates for middle-income families and a "no-money-down" tuition-fee program for college and post-secondary education.
Under his guidance, he said, students would not have to put down a deposit of thousands of dollars before starting their studies.
Murray maintained that these lofty promises could be accomplished through turning tax deductions into grants, and promoting more productivity in government. He said more details will come in the following days.
Yet when pressed about specifics, he could only say that it could be done despite the fact that the province continues to deal with a inflated $14.4 billion deficit.
"I will reconcile all of these numbers," he said. "You will have more spreadsheets. As you know, I am not a person who is accused of being short on words or details. I will try to be a little more concise."
Murray, who was the mayor of Winnipeg from 1998 to 2004, won a seat in the Ontario legislature in a 2010 byelection in Toronto.
"I've been a big-city mayor, I have successfully led a large government through similar challenges to the ones we face now," he said, adding he did so by working with people "of all political stripes."
He said he didn't want to brand himself as a Toronto-centric candidate, and pointed to family roots in Sudbury and Alexandria, Ont.
"I am not looking to be the establishment candidate," said Murray. "Most of my support is going to come from grassroots liberals across Ontario."
Although Sunday's announcement was planned to much hoopla, Murray told reporters that the lack of his Queen's Park colleagues at the announcement was not an indication of the lack of support he has in cabinet.
Instead, he insisted he had not spoken to many of them yet about his intention to run.
Those in the room to support him included his mother, partner Rick, former Research in Motion co-CEO Jim Balsillie and Toronto mayoral candidate and former provincial Liberal cabinet minister George Smitherman.
But Smitherman, whose job was taken over my Murray when he stepped down to run against Toronto Mayor Rob Ford, said he came to support a friend, and not necessarily to provide a formal endorsement.
"Certainly, I think he has good energy. He's a good presence in the race and I wanted to show support on that level," said Smitherman, who brought his young son.
Meanwhile, Murray also dismissed suggestions that he was trying to steal thunder from his colleague, former Municipal Affairs Minister Kathleen Wynne, who was set to launch her campaign Monday.
Wynne, who is also an openly gay politician, resigned from cabinet last week.
"We were on track. This was our plan," he said. "It wasn't about being first. It was about being ready."
The Ontario Liberal Party will elect their new leader at a convention at Maple Leaf Gardens on Jan. 25. Those interested in joining the race must submit their names to the party by Nov. 23.
The fee to enter is $50,000 and candidates can spend up to $500,000 on their campaign.
Other potential candidates said to be considering a bid include former cabinet ministers Sandra Pupatello and Gerard Kennedy, who lost to McGuinty by just 140 votes in 1996.
While other high-profile members in McGuinty's caucus have already rejected the idea of replacing him.
Finance Minister Dwight Duncan, Energy Minister Chris Bentley, Education Minister Laurel Broten and Economic Development Minister Brad Duguid have all decided to stay out of the race.