The furious debate over a shark fin ban in Metro Vancouver has gotten ugly with a Richmond restaurateur calling a Vancouver councillor a "banana" -- a derogatory term for Chinese people seen as "too white."
David Chung, president of the B.C. Asian Restaurant and Cafe Owners Association and a vocal opponent of a shark fin ban, lobbed the insult at Vancouver Coun. Kerry Jang in a Chinese-language interview with the Ming Pao newspaper.
Jang has been campaigning for a local ban on the controversial delicacy for years, in order to save dwindling shark populations from the brutal and illegal practice of finning. Last week, he succeeded in helping convince Floata, Vancouver's biggest Chinese restaurant with 1,000 seats, to drop shark fin from its menu
Chung, a blunt-spoken real estate developer who owns Jade Seafood Restaurant, accused Jang -- a third-generation Chinese-Canadian -- of not understanding his heritage.
"He was born in Canada, influenced by Western culture from a young age and is totally unfamiliar with Chinese culture -- unable to understand the historical relationship Chinese have had with shark fin and the innate bond we share," said Chung, according to a translation by the South China Morning Post.
"He is not Chinese, he is a banana. He is only doing this to get cheap political votes. Many people in our industry have already announced that we will not vote for him during the next election."
"Banana" is a term generally applied to Chinese people seen as yellow on the outside but white on the inside.
Jang told the Georgia Straight he found Chung's comment "initially racist" but has taken it as an "offhand compliment" because he is "reflecting all of Vancouver's values, not just one particular group's."
Chung has argued that consuming shark fin soup is a Chinese tradition -- often featured in banquets as a status symbol -- and is acceptable as long as the ingredient is sourced from humane fisheries. Jang believes the tradition is outdated and there are alternate ways of honouring one's guests.
Last month, Richmond MP Alice Wong held a news conference at Chung's restaurant to reaffirm the federal government's position that it does not intend to introduce legislation to make shark fin illegal. She also sampled a bowl of shark fin soup in front of the invited crowd of Chinese-language media only.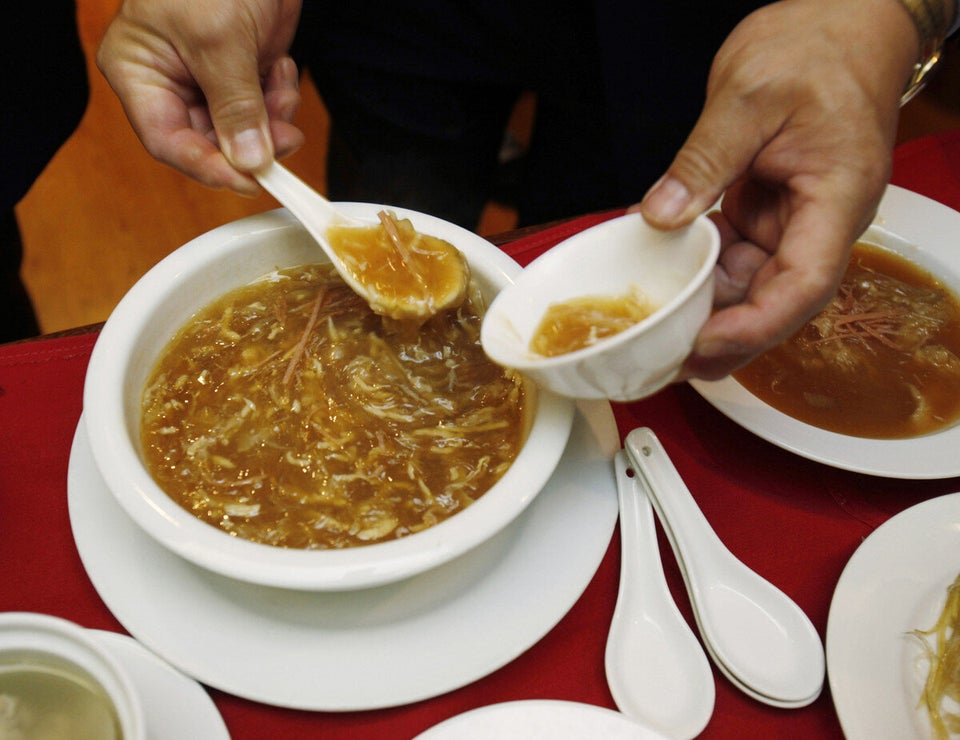 Where Shark Fin Is Banned